Well, well, welcome! I'm back and raring to go with this week's Post Comment Love. Before I start I must thank Kate Thompson for minding shop for me last week whilst I descended on London with around 700 other bloggers at BritMums Live. And what a weekend it was – if you would like to read about my experience then take a look at my post (it's first on the linky below).
This week's badge feature belongs to Loving Life with Little Ones so please click on the badge to pay her a visit. I am now all out of people on the badge rota so if you would like to be featured here then please feel free to email me at vickywelton@hotmail.com
Yesterday I was in TV land…on a film set for 'Trollied' to be precise. I was one of the extras or 'supporting artists' as they now call them. It was a really enjoyable experience. I was a little warm in my autumnal clothing and found it rather interesting shopping for plastic fruit! They fed us really well – with real food, not plastic! (they had run out of the teriyaki salmon when I got there so I had to have spanish omelette). I acted with Miriam Margolyes (from LOTS including Blackadder and Harry Potter), Victor Maguire (Jack Boswell from Bread), Stephen Tompkinson (Ballykissangel) and Jack Carroll (the young comedian from Britains Got Talent).
I am rather looking forward to this weekend in the fact that we are actually all going to be at home together for a change! I also finally get the chance to put our new hot tub to the test…yes…that's right… I said hot tub!! Wooohooo!
With the announcement that Tots 100 are now taking Instagram instead of Kred into account for their metrics scoring, I thought it would be good to have some Instagram follows, comments and likes over on SoFoLo. So pop over to link up your Instagram profile and share some Social Follow Love or #SoFoLo. Also, don't forget our #SoFoLo community on Google + and our #PoCoLo Facebook group where you can come and post your PoCoLo post for some more shares as well as any of your social media accounts of yours that need more followers.
The 'About Me' special is still open to join until April 2015 – so if you are new then it is a great place to introduce yourself and it is also a great resource to find out about your fellow bloggers.
I am still trialling some systems on how I am going to get round everyone's posts each week. Two weeks ago I commented on the first 20 posts, and then tweeted every single post out. This week I shall go and comment on 21 to 40 first and then everyone elses if I have time. Instead of sharing on Twitter, I shall share the majority on Google + as this is better for everyones stats apparently (you see, I did learn something last weekend!).
If you are a regular here then it would be great if you spread the #PoCoLo word. However, if you are new here then welcome! Post Comment Love is all about sharing posts which you have written this week which just haven't got the attention they deserve and, with them all in one place, we can help each other share the comment love. This is one of the easiest links EVER. You don't have a 'special theme' to have to write about, the post can be personal, sponsored, a photo, a review, a competition, your own linky, something you've linked to a linky….WHATEVER you like – it's one you've already written this week! If you want some publicity and attention, then you are in the right place!
Please make sure you go across and comment on at least two other linkers posts. Linkys work if everyone supports each other 🙂 then spread the #PoCoLo about this link up on Twitter. The post you link up has to have been written in the last week. The link will go up every Friday at 6.30am and close on Sunday evening at 8pm.
I have a list for the Newbie Showcase running into April 2015. If you would like to be featured then please email me at vickywelton@hotmail.com so I can put you on the rota. Remember, your blog needs to be under a year old to feature from the time of sending your email to me.
This week's newbie showcase is Karen from Let Kids Be Kids. I remember her starting this blog after reading Twinlifeonline and wondered how she managed two! (but now, I can't talk!).
Hi, I'm Karen and I blog primarily at
Let kids be kids
but also ocassionally at Twinlifeonline.
I am a stay at home mum to three children, a 6yr old boy and 4yr old twin girls.
I started Let kids be kids blog in October, to help promote awareness of encouraging children to have basic childhood fun. We live in a fast paced modern world surrounded by technology. While I believe we should embrace this, I also feel it's very important to remember the basics. Children love outdoor fun, fresh air, running around, exploring, being creative with art and craft, playing games and pretending. These are all things I like to promote on my blog by providing inspiration.
I write about children, parenting, our family life and provide many ideas for play, crafts, activities and fun. You will frequently find us with some messy play, making crafty flower pots, out in the forest on a bug hunt or maybe dipping our toes in the sea at the coast.
You can chat with me on twitter at @karenattwinlife. Please follow/tweet me, I'd love to hear from you and always love reading new blogs.
So, whether you want to #PoCoLo, #SoFoLo or both, please pay Karen, and all the lovely linkers below, a visit. Have a great weekend xx
Go Over and Link Your #SoFoLo Instagram HERE.
Link Your PoCoLo Posts here: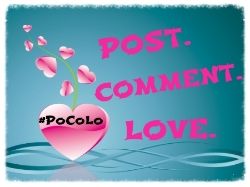 <div align="center"><a href="https://www.vevivos.com/post-comment-love" title="Post Comment Love"><img src=" http://i1322.photobucket.com/albums/u568/ToriWel/4e4a1bf6-07cb-494b-b06e-f959b1fe1311_zps654d027a.jpg" alt="Post Comment Love" style="border:none;" /></a></div>
Copyright protected by Digiprove © 2014-2016 Victoria Welton