Welcome everyone to this week's Prose for Thought. Thank you to the people who linked up last week.
It was wonderful to see so many of you at BritMums Live at the weekend. I had a number of people compliment me on my poetry but I never think it is as good as many of the people who link up here. Some were even telling me that I should put it in a book. I think I am happy enough to leave it on my blog for now for others to find but who knows? May be one day.
I always write from the heart. From personal experience and raw emotions and, this week in particular, I have done that.
Sometimes I feel that I don't really want to explain my poems and just let them speak for themselves, however I don't really do that…but this week I am going to leave it for you to read, without any explanation, because some things are better left unsaid.
When the Time is Right
So, it's here again, taunting me
Laughing in my face
Like a red rag to a bull
But I ignore it, carry on
I will not let this stop me
I will not let this beat me
I will not let this mean
That we won't keep trying
I wrack my brains
What did I do wrong?
Why did it not happen?
Am I the one to blame?
Do you feel this way?
Are you hungry for this?
Do you want it as much as me?
The disappointment is hidden away
I see the happy news
The sharing and the photos
So many different ways
So when will it be our turn?
I tell myself…
When the time is right
When our universe is in unison
Then our world will be whole
Victoria Welton 25th June 2014
If you have your own poem or piece of prose to share then grab my badge code and click the link below to enter your post. If you share a link back to my page in your post then you will be guaranteed some free publicity from me on either Twitter or Google +. Don't forget to use #Prose4T when tweeting your post. Check out the Prose for Thought page for full details.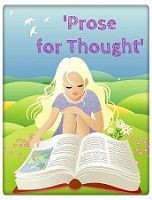 <div align="center"><a href="https://www.vevivos.com/prose-for-thought" title="Prose for Thought"><img src=" http://i1322.photobucket.com/albums/u568/ToriWel/Proseimagesmall_zps637beb08.jpg " alt="Prose for Thought" style="border:none;" /></a></div>
Copyright protected by Digiprove © 2014 Victoria Welton