Well, hello there you lovely person. Thank you for coming over here for Post Comment Love but I am afraid I am out of the office this weekend…you see BritMums Live is calling me and I need to go and spend lots of time eating cake and drinking coffee and schmoozing with brands and mucking around with my blogger friends and making my blog a better place to visit. So you see, this is why I am not here.
But fear not! For the rather wonderful Kate Thompson over on Musings of a 21st Century Stay at Home Mum is looking after business for all of you. She is also hosting this weeks newbie showcase, Powered By Tea and Gossip.
There will be no Social Follow Love this week (#SoFoLo). That is taking a break. But normal service will resume next week.
Please go and support Kate and link up your blog posts from this week. It is great to see that there will still be people holding the fort in blogger land whilst we all have a bit of doss!
Go Across HERE to link up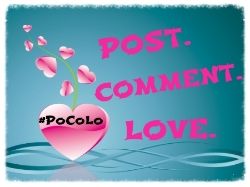 <div align="center"><a href="https://www.vevivos.com/post-comment-love" title="Post Comment Love"><img src=" http://i1322.photobucket.com/albums/u568/ToriWel/4e4a1bf6-07cb-494b-b06e-f959b1fe1311_zps654d027a.jpg" alt="Post Comment Love" style="border:none;" /></a></div>
Copyright protected by Digiprove © 2014 Victoria Welton