Welcome to this week's Prose for Thought.
Well, the time is upon us. Tomorrow is one of the biggest blogging events of the year – BritMums Live. I shall never forget my first year, last year. I found it overwhelming yet brilliant. A brain bulge of information but truly informative. I met many bloggers but can't really remember due to the fact that I was so bombarded with EVERYTHING.
This year, with another years experience under my belt, I am really looking forward to being much more relaxed about it all. I will not try to go to every single session. I shall spend a bit more time socialising with people AND I shall remember every single bit!
But, the best thing about all of this for me is getting to see all the people I have so much in common with, whilst all being so very different at the same time. It is what makes each of our blogs so very unique and also means that we are all able to get offered different opportunities. The perfect way that our blogger togetherness was summed up last year was at the very end on the Saturday when there was a tribute to Kerry from Multiple Mummy. I still can't listen to 'Firework' without crying.
So, this week's poem is the celebration of blogger events. Enjoy!
The Blogger
Forming friendships oh so true
Though, IRL, I've not met you
Using the words 'lovely' and 'honey'
Even though you've not met me
This is a time to come together
Our relationship imprints forever
Right out there in cyberspace
Though I hardly see your face
That big room, the sea of familiar
I know that face, I do, I've seen her
Of people whose lives I already know
I read their blog posts, blow by blow
So much in common, yet so different in ways
It can be overwhelming, become a haze
This year I will take it as it comes
And not loose my head, or come undone
The sessions, the bloggers and the brands
All there to lend a helping hand
To grow your writing, knowledge and tech
I will come away a better blogger I bet!
A sense of camaraderie
Is what blogging friendships mean to me
Lots of hugs and sad and happy tears
And then I'll look forward to next years
Victoria Welton 18th June 2014
If you have your own poem or piece of prose to share then grab my badge code and click the link below to enter your post. If you share a link back to my page in your post then you will be guaranteed some free publicity from me on Twitter! Don't forget to use #Prose4T when tweeting your post. Check out the Prose for Thought page for full details.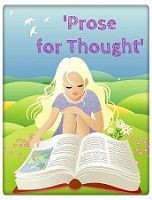 <div align="center"><a href="https://www.vevivos.com/prose-for-thought" title="Prose for Thought"><img src=" http://i1322.photobucket.com/albums/u568/ToriWel/Proseimagesmall_zps637beb08.jpg " alt="Prose for Thought" style="border:none;" /></a></div>
Copyright protected by Digiprove © 2014 Victoria Welton