Crikey! Where did that week go?! Here we are again with 70 years since D-Day, Friday and Post Comment Love. Welcome, welcome everyone. This week's badge feature is You Baby, Me Mummy – just click on her badge to pop over for a visit.
Firstly, before I go into anything else, I have an apology to make. I hardly visited any of you last week and for that I am very sorry indeed. No excuses BUT to find out what kind of a week I have had then take a look at yesterday's Prose for Thought with a poem entitled 'Don't Wipe Your Feet On Me, I'm Not a Doormat'. That kind of sums it up really.
I did have a great time at the Royal Bath and West Show last weekend. My Ultimate Cheese Toastie with Barbers 1833 Cheddar competition went well and I came joint 2nd out of 9 bloggers and one of the Barbers themselves! My post will be up soon so watch this space!
With two weeks until BritMums Live, I posted in the PoCoLo Facebook group a couple of days ago to ask for a host and, I am pleased to say that Emma-Kate Thompson from Musings of a 21st Century Stay At Home Mum is going to be your host on 20th June. I shall be briefing her very shortly regarding what this all entails (a list of hosts is now being made as a result – for when I need a break! Thanks to all the willing volunteers).
Tomorrow I am off to the South West Blogger Social, and I am really rather excited about it. Organised by Jodie from A La Jode and Albertine from Dippy Writes, there will be around 100 bloggers there including Gina from Cold Tea and Smelly Nappies, Emma from Crazy With Twins and Joanne from Charlie Moos. The agenda looks fantastic and the goodie bags look amazing!
I also needed to mention something important to me and my family. This week is the first ever Rare Chromosome Disorder Awareness Week. This is something that effects my family and I have written about my nephew, Elliott, to help you understand more about it. Please read my post in the link up.
The 'About Me' special is still open to join until April 2015 – so if you are new then it is a great place to introduce yourself and it is also a great resource to find out about your fellow bloggers.
As there are now so many linkers (and thank you SO much for your support) I will only be tweeting out the posts that are linked to PoCoLo or are displaying the PoCoLo badge either on their blog or in the post you have written. I hope you understand xx
This week #SoFoLo is all about giving each other some Klout. To find out more and be included in the Klout giving then please pop over to share your profile and receive some Klout from fellow linkers. Also, don't forget our #SoFoLo community on Google + and our #PoCoLo Facebook group where you can come and post your PoCoLo post for some more shares as well as any of your social media accounts of yours that need more followers.
If you are a regular here then it would be great if you spread the #PoCoLo word. However, if you are new here then welcome! Post Comment Love is all about sharing posts which you have written this week which just haven't got the attention they deserve and, with them all in one place, we can help each other share the comment love. This is one of the easiest links EVER. You don't have a 'special theme' to have to write about, the post can be personal, sponsored, a photo, a review, a competition, your own linky, something you've linked to a linky….WHATEVER you like – it's one you've already written this week! If you want some publicity and attention, then you are in the right place!
Please make sure you go across and comment on at least two other linkers posts. Linkys work if everyone supports each other 🙂 then spread the #PoCoLo about this link up on Twitter. The post you link up has to have been written in the last week. The link will go up every Friday at 6.30am and close on Sunday evening at 8pm.
I have a list for the Newbie Showcase running into April 2015. If you would like to be featured then please email me at vickywelton@hotmail.com so I can put you on the rota. Remember, your blog needs to be under a year old to feature from the time of sending your email to me.
This week's newbie showcase is the very supportive Craig from A Day in This Dad's Life who regularly sends me a #FF for the linkies I run 🙂
Hello my name is Craig Knowles-Smith, I'm a father of three from Dudley in the West Midlands (sounds like I'm on Krypton Factor lol) but you may know me better as ADayInDadsLife, I tweet @ ADayInDadsLife and blog at adayinthisdadslife, I also share my pics of my family on our various adventures and days out on instagram at adayinthisdadslife.
"Why did you start blogging?" That's what I'm normally asked when my friends or family members find out I blog.
To be honest its a funny old story, a old story it is indeed its nearly a year old now and was my actual first post I ever wrote (you can read about it here you'll laugh and feel my pain at the same time hopefully).
My first post (That Knock Out Blow) came about courtesy of my wife me_and the_tiny3 (who was already tweeting and blogging at this point) it was she who suggested I wrote up what occurred between me and my lovely innocent daughter that morning almost a year ago.
From that suggestion my blog was born and from that day to this I write about our adventures and days out as a family for others to read and also to look back on to relive what we have got up to and also see how quickly the children are growing up
So, whether you want to #PoCoLo, #SoCoLo or both, please pay Craig, and all the lovely linkers below, a visit. Have a great weekend xx
Go Over and Link Your #SoFoLo Klout Pages HERE.
Link Your PoCoLo Posts here: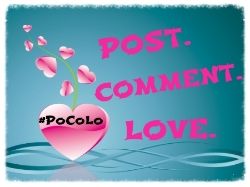 <div align="center"><a href="https://www.vevivos.com/post-comment-love" title="Post Comment Love"><img src=" http://i1322.photobucket.com/albums/u568/ToriWel/4e4a1bf6-07cb-494b-b06e-f959b1fe1311_zps654d027a.jpg" alt="Post Comment Love" style="border:none;" /></a></div>
Copyright protected by Digiprove © 2014-2016 Victoria Welton