Welcome to this week's Post Comment Love where normal business is being resumed. Thank you to everyone who linked up to last week's 'About Me' special. Don't forget it is open to join until April 2015 – so if you are new then it is a great place to introduce yourself and it is also a great resource to find out about your fellow bloggers. This week's featured badge comes from the very talented Mel from Le Coin de Mel. I really enjoy reading her blog. Click on the badge to pop over for a visit. The rota for the badge feature is getting rather low so please email me if you would like your badge to appear at vickywelton@hotmail.com
It's been quite a week here at the W Towers! My Mum stayed until Monday evening and I had a great girly shopping day with her on Monday then, on Tuesday, our house was transformed when a film crew came to visit along with a Dulux representative and the PR and we decorated Grace's room before she got home from school. She absolutely LOVED it and you will be able to see the results here on this blog soon as well as featured in a film on the Dulux website 🙂
My posts this week include my Alphabet Photograph post which is of my birthday, a rather yummy recipe for chocolate brownie cookies and in yesterday's Prose for Thought I share some song lyrics I wrote back in 1995. Plus, don't forget that I have a competition running until Monday to win £150 worth of Amazon vouchers.
Grace has also written her post for an entry into the MAD Blog Awards 'Kid Blog of the Year'. I know she would love some support so I have added it to the linky below. Don't forget that if your child is 13 or under and would like enter the competition closes on May 31st. You can find out the details here.
As there are now so many linkers (and thank you SO much for your support) I will only be tweeting out the posts that are linked to PoCoLo or are displaying the PoCoLo badge either on their blog or in the post you have written. I hope you understand xx
This week #SoFoLo is for your Instagram account. I do love Instagram. It is so easy to share photos over to Facebook and Twitter as well as link up with FourSquare. So pop over and share your profile. If you find yourself already following someone, then why not 'like' some of their photos and spread the love? Also, don't forget our #SoFoLo community where you can come and post your PoCoLo post for some more +1s and shares as well as any of your social media accounts of yours that need more followers.
If you are a regular here then it would be great if you spread the #PoCoLo word. However, if you are new here then welcome! Post Comment Love is all about sharing posts which you have written this week which just haven't got the attention they deserve and, with them all in one place, we can help each other share the comment love. This is one of the easiest links EVER. You don't have a 'special theme' to have to write about, the post can be personal, sponsored, a photo, a review, a competition, your own linky, something you've linked to a linky….WHATEVER you like – it's one you've already written this week! If you want some publicity and attention, then you are in the right place!
Please make sure you go across and comment on at least two other linkers posts. Linkys work if everyone supports each other 🙂 then spread the #PoCoLo about this link up on Twitter. The post you link up has to have been written in the last week. The link will go up every Friday at 6.30am and close on Sunday evening at 8pm.
I have a list for the Newbie Showcase running into April 2015. If you would like to be featured then please email me at vickywelton@hotmail.com so I can put you on the rota. Remember, your blog needs to be under a year old to feature from the time of sending your email to me. I believe I am currently up to date with your emails (for a change!).
This week's newbie showcase is Jude from Make Me An Earth Mother. I remember when she linked up to PoCoLo and I read her blog for the first time. She is going from strength to strength having recently being shortlisted for the #BiBs2014 in the Fresh Voice category (don't forget that finalists are announced today!). Oh, and I LOVE her blog header 🙂
Hi, I'm Jude – the wanna-be-earth-mother of two pre-schoolers. I blog at Make me an Earth Mother – where I share my attempts to be the best mum I can while keeping my feet on the ground.
Crunchy mum, I'm not. While I embrace co-sleeping, baby-wearing and gentle-discipline (aka being a softie), I'm a cloth nappy part-timer and my attempt to breast feed in the face of allergies, reflux and a baby who failed to thrive was an epic fail. Sob!
Make me an Earth Mother is a complete mash up of funny and serious, day-to-day and different. Recent posts see me pondering the common parenting dilemma of climbing up the slide; playground faux pas or Imaginative play? Hard Lessons in Soft Play sees me debating the soft play commandments whilst 'That's not My Mummy' is a parody of the popular 'That's not my…' Usborne board books.
I started blogging in September of last year and have recently been shortlisted in the Fresh Voice category of the BritMums Brilliance in Blogging Awards. I treasure all Make me an Earth Mother blog readers, and if you leave a comment, I'll love you forever and do my best to comment back. Being part of such a vibrant supportive community of creative mums is amazing – and reassurance it's not just me who's making up this motherhood lark as I go along.
Website: http://makemeanearthmother.blogspot.co.uk Twitter: @mmearthmother Google +: https://plus.google.com/+JudithMakemeanearthmotherHurrell/posts Facebook: https://www.facebook.com/makemeanearthmother
So, whether you want to #PoCoLo, #SoCoLo or both, please pay Liz, and all the lovely linkers below, a visit. Have a great weekend xx
Link Your PoCoLo Posts here:
Go Over and Link Your #SoFoLo Instagram Pages HERE.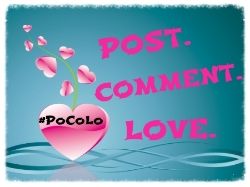 <div align="center"><a href="https://www.vevivos.com/post-comment-love" title="Post Comment Love"><img src=" http://i1322.photobucket.com/albums/u568/ToriWel/4e4a1bf6-07cb-494b-b06e-f959b1fe1311_zps654d027a.jpg" alt="Post Comment Love" style="border:none;" /></a></div>
Copyright protected by Digiprove © 2014 Victoria Welton