Yesterday I found out I had made it into the shortlisted blogs for the Brilliance In Blogging #BiBs2014 over on BritMums. It was for a category I had never expected to get it in a million years! Inspire.
The letter 'i' now seems to have become a bit of a coincidence and has started to become 'my' letter! Firstly, there is my blog name with the sound 'i' being prominent in the word Vocalises. I have always rounded off most of my categories with the word 'Vocalised'. I like the fact that I talk and you see it – with your eyes. I have been a finalist twice now in Innovate in the MAD Blog Awards and now, Inspire for the #BiBs2014. Last year I was a finalist in the Video category and you had to use your eyes to see me! See what I mean?!
So, I decided to write a poem to say thank you. To everyone who has voted for me and supported me. I love to support others and comment on all the poems that link up. Then, of course, there is PoCoLo the next day which now has SoFoLo too. I want people to share in this blogging experience as much as possible.
I was thrilled at the weekend when Mary from Over 40 and a Mum to One came up to me at BlogCamp and said that she believed that it was because of my blog and her appearance on newbie showcase that made her blog a success. I couldn't believe it. I was so thrilled to hear that. Then Afra from Mad Mum of 7 joined in and agreed with her. She said that she believed that what I had done was inspirational, innovative (those 'i's again!) and really great for sharing. The last word is exactly what I want these things to be!
So thank you. Thank you for putting me in the shortlist. I may not make the final (of course, I would LOVE to) but the fact that people out there believe I am inspirational is an absolutely brilliant feeling.
Here is my poem:
The 'I'se Has It!
Ve Vi Vos…Umm…
These are the thoughts of an English Mum
Never when she started this blog
Did she realise, she is agog
At all the support of many others
Particularly the wonderful blogging mothers
Whom she loves to support and encourage
Especially when they feel discouraged
And now I'm shortlisted for Inspire
In a category with many that I admire
It seems that 'i' is the letter for me
Although I share this space for free
I hope that I have helped YOU in some small way
Thanks for reading and have a great day xxx
Victoria Welton 30th April 2014
Linking to this week's Prose for Thought that you will find here.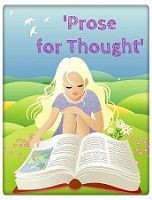 I am thrilled to have been short-listed in the Brilliance in Blogging or #BiB2014 Awards in the INSPIRE category and would really appreciate your vote to help me get through to the finals. Please go across here and choose Verily Victoria Vocalises in section 5 for Inspire.
Copyright protected by Digiprove © 2014 Victoria Welton