Welcome one and all to this weeks Post Comment Love and the last weekend of April! This week's featured badge is that of Tanya Leary from Mummetamorphosis – make her day by clicking on the badge and paying her a visit.
I don't about you guys but I had a really wonderful Easter. The perfect amount of relaxation mixed with family visits and days out. Fab!
Yesterday saw the last day of voting in the MAD Blog Awards. I have my fingers crossed big time – although I fear they may well start hurting if I carry on doing that until September!! Good luck to all the wonderful finalists and I look forward to partying with you. Thank you to Sally and her team in advance who always work so hard behind the scenes to put this all together.
This week's blogging has been a mixed bag for me with reviews and sponsored posts and yesterday's Prose for Thought poem is entitled 'England' and is all about our beautiful country. You can also win £250 to spend at Chessington. Just tweet your #Sunfession and the winner will be drawn at random next Friday. I also announced my BritMums Live sponsor this week.
I was chosen a few weeks back by Sally Whittle to be one of her helpers at BlogCamp in Birmingham tomorrow so, if you are going, then please come over and say hi. I may look a bit confused at first (apologies in advance!) but it would be lovely to put more faces to names of blogs!
Next week we are off on a Forest Holidays break with Cathie and her family which we will be reviewing over on Kidglloves from a kids and dog perspective! We are off to their Deerpark Centre in Cornwall. NERF guns for the kids, alcohol for the adults!! I also have a feeling that the hot tub will be getting a lot of use.  Therefore, whilst I am away, my lovely blogger friend, Jaime, over at The Olivers Madhouse will be taking care of PoCoLo, and of business for me 🙂 I will still be running SoFoLo over here though.
This week's #SoFoLo is back to Google +. If you find you are already following someone, then why not do some +1 and sharing for them and don't forget to use the SoFoLo hashtag so they know where you came from. To find out more then please pop over to share your profile and receive some follows from fellow linkers.  Don't forget our #SoFoLo communityfollow too where you can come and post your PoCoLo post for some more +1s and shares as well as any of your social media accounts of yours that need more followers.
If you are a regular here then it would be great if you spread the #PoCoLo word. However, if you are new here then welcome! Post Comment Love is all about sharing posts which you have written this week which just haven't got the attention they deserve and, with them all in one place, we can help each other share the comment love. This is one of the easiest links EVER. You don't have a 'special theme' to have to write about, the post can be personal, sponsored, a photo, a review, a competition, your own linky, something you've linked to a linky….WHATEVER you like – it's one you've already written this week! If you want some publicity and attention, then you are in the right place!
Please make sure you go across and comment on at least two other linkers posts. Linkys work if everyone supports each other 🙂 then spread the #PoCoLo about this link up on Twitter. The post you link up has to have been written in the last week. The link will go up every Friday at 6.30am and close on Sunday evening at 8pm.
I have a list for the Newbie Showcase running into March 2015!! If you would like to be featured then please email me at vickywelton@hotmail.com so I can put you on the rota. Remember, your blog needs to be under a year old to feature but as this waiting list is now so long then I will take it from the time of sending me the email!
This week's newbie showcase is one of the quieter bloggers on the circuit. Please say hello to the lovely adoptive Mummy over at Three Pink Diamonds.
I am a 29-year-old adoptive mom of three beautiful girls aged between 7 & 3, living in the Midlands. I started my blogging journey in June, 2013. Initially, I wanted to write a book, as I desired to share our story as I felt as though at the time there was a limited amount of literature on people's experiences of fertility issues and adoption. I sought some advice on how best to begin writing a book and the advice was to begin penning our story through a blog. I agreed that this was a good way to begin and felt that I would be able to comfort and support others who were going through similar issues to us and to break the taboo that can often be found lurking around this personal subject.
I decided to call the blog 'Three Pink Diamonds' as I felt this perfectly captured how we see our beautiful and bright daughters. I, therefore, began at the start of our journey; our decision to become parents and shared both the highs and the lows that unfolded over the next couple of years. I have continued to share what life is like living with the girls. I have tried to be open and honest sharing both the treasured memories and some of the struggles and difficulties we have faced.
My hope for the blog is that, as well as helping others, my three beautiful daughters will read these entries one day and be able to see the journey we have all undertaken.
If you would like to connect with me here is how you can do so:
Blog: http://threediamonds321.blogspot.co.uk
Facebook: https://www.facebook.com/threepinkdiamonds123?ref=hl
Twitter: @Diamondspink321
Email: threediamonds123@gmail.com
So, whether you want to #PoCoLo, #SoFoLo or both, please pay our lovely newbie showcase a visit as well as some of the lovely linkers below. Have a great weekend xx
Link Your PoCoLo Posts here:
Go Over and Link Your #SoFoLo Google + Pages HERE.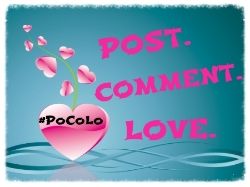 <div align="center"><a href="https://www.vevivos.com/post-comment-love" title="Post Comment Love"><img src=" http://i1322.photobucket.com/albums/u568/ToriWel/4e4a1bf6-07cb-494b-b06e-f959b1fe1311_zps654d027a.jpg" alt="Post Comment Love" style="border:none;" /></a></div>
Copyright protected by Digiprove © 2014 Victoria Welton