Welcome to the last weekend of March and Post Comment Love! As well as Newbie Showcase, the clocks changing (one hour less to PoCoLo, booooo!) and, of course, Mothers Day. Today's featured blog badge belongs to Afra from Mad Mum of 7 so, if you would like to pay her a visit then click on the badge and pop over. I have three people left on the rota so if you would like to be featured – no matter what age your blog is – please send me an email at vickywelton@hotmail.com.
Well, what a week it has been! Last Sunday I found out that I had once again made the finals of the MAD Blog Awards in the 'Most Innovative' category. To say I am thrilled is an understatement. I have to thank you, each and every one of you, who supports this linky and helps each other. We have created a wonderful community here and I look forward to Fridays every single week. I wouldn't be there without you lovely lot making this link the success it has become.
The thing that really topped my weekend off was the fact that we had 107 linkers here on Post Comment Love!!! That is outstanding. I am SO pleased. What with everyone Klouting each other too, there was some major bloggy love going on!
I had such a massive amount of support when I wrote about my trust issues last week, so thank you SO much. I have now written Part 2 which is far, far worse than last week! I just hope it helps someone who believes they may be in an abusive relationship. You can read it here.
I am really looking forward to Mothers Day on Sunday. Ross, Grace and I are off to see the new Muppet film, followed by lunch together. I have decided to go easy on myself with the diet but will still make sensible choices.
This week's #SoFoLo is to go and follow your fellow bloggers on Bloglovin. It is a really useful way to find all your favourite bloggers posts in one place. To find out more then please pop over to share your profile and receive more Bloglovin followers from fellow linkers.  Don't forget our #SoFoLo community too where you can come and post your PoCoLo post for some more +1s and shares as well as any of your social media accounts of yours that need more followers.
If you are a regular here then it would be great if you spread the #PoCoLo word. However, if you are new here then welcome! Post Comment Love is all about sharing posts which you have written this week which just haven't got the attention they deserve and, with them all in one place, we can help each other share the comment love. This is one of the easiest links EVER. You don't have a 'special theme' to have to write about, the post can be personal, sponsored, a photo, a review, a competition, your own linky, something you've linked to a linky….WHATEVER you like – it's one you've already written this week! If you want some publicity and attention, then you are in the right place!
Please make sure you go across and comment on at least two other linkers posts. Linkys work if everyone supports each other 🙂 then spread the #PoCoLo about this link up on Twitter. The post you link up has to have been written in the last week. The link will go up every Friday at 6.30am and close on Sunday evening at 8pm.
I have a list for the Newbie Showcase running into January 2015!! If you would like to be featured then please email me at vickywelton@hotmail.com so I can put you on the rota. Remember, your blog needs to be under a year old to feature. I have a couple of people to respond to so I will be in touch very shortly.
This week's newbie showcase belongs to a lady whose blog title captured my attention straight away. Please give a warm welcome to Jo.
Hi. I'm Jo and I blog at My Monkeys Don't Sit Still. A Parenting & Lifestyle blog. I'm a slightly mad Mummy to two monkeys who keep me on my toes! Blogging about family life, fun days out and everything in between.
I started blogging in March 2013 to give myself something to focus my mind on, other than the day to day running of the family home and looking after the monkeys! Which would also create a log of the monkeys childhood and something for them to look back on in years to come.
My 1st post went live on March 19th and was entitled 'New to Blogging. (http:// www.sitstillmonkeys.co.uk/2013/03/new-to-blogging.html) Therefore last Wednesday was the blogs 1st birthday and something I felt really proud of. I am thoroughly enjoying writing the blog and everything that goes with blogging.
We live in the East of the UK, where I've been lucky enough to meet some of the blogging friends I've made. There are still lots of from all over the country, whom I hope to meet one day.
You can find the me on Facebook at https://www.facebook.com/MyMonkeysDontSitStill
So, whether you want to #PoCoLo, #SoFoLo or both, please pay Jo, and all the lovely linkers below, a visit. Have a great weekend xx
Link Your PoCoLo Posts here:
Go Over and Link Your #SoFoLo Bloglovin Pages HERE.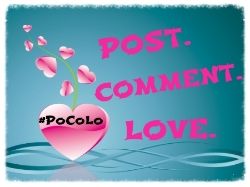 <div align="center"><a href="https://www.vevivos.com/post-comment-love" title="Post Comment Love"><img src=" http://i1322.photobucket.com/albums/u568/ToriWel/4e4a1bf6-07cb-494b-b06e-f959b1fe1311_zps654d027a.jpg" alt="Post Comment Love" style="border:none;" /></a></div>
I am so excited to have made this years finals of the MAD Blog Awards in 'Most Innovative' once again and would love the chance to win my category this year. If you would like to support me then please go to http://www.the-mads.com/vote/ and choose 'Vevivos' in the drop down menu. Also, if you would be kind enough to vote for me in the BiBs, my chosen categories are on my side bar to the right, near the top. Just click on those to take you across. Thank you so much for your valued support 🙂 x
Copyright protected by Digiprove © 2014 Victoria Welton