Welcome to Friday and Post Comment Love! This week's Guest Badge slot is filled by Jenny from Lets Talk Mommy . If you want to pay her a visit, just click on her badge :). Please don't forget to display the #PoCoLo badge over on your post or blog which is at the bottom of this post. If you'd like to appear here then please don't forget to email me!
This weekend is about lots of great family time for me, Grace and Ross. I am crossing my fingers big time that the weather is nice and we can get outside to tidy the back garden!
This week I have written about some of my trust issues as well as a poem directed towards my father. I did not write them for sympathy or to moan about my life. The poem is not directed at anyone other than my father and people who don't deserve to be parents. Of course, there are many of us who complain who do deserve to be! I hope, in some small way, that what I have written will help others going through something similar. In fact, I was very honoured that Cat from Stay Calm and Content asked if she could use yesterdays poem in her counselling sessions.
No sooner are the MAD Blog Award nominations out of the way than the BiB Awards are upon us. Take a look at the categories here and vote for your favourites. I have put in my side bar what I would like to be recognised for if you would like to consider me. There are SO many fabulous blogs out there.
Last week's #SoFoLo was LinkedIn users which wasn't quite so popular as others. This week I have decided to ask you all to give each other some Klout. To find out more and be included in the Klout giving then please pop over to share your profile and receive some Klout from fellow linkers.  Don't forget our #SoFoLo community too where you can come and post your PoCoLo post for some more +1s and shares as well as any of your social media accounts of yours that need more followers.
If you are a regular here then it would be great if you spread the #PoCoLo word. However, if you are new here then welcome! Post Comment Love is all about sharing posts which you have written this week which just haven't got the attention they deserve and, with them all in one place, we can help each other share the comment love. This is one of the easiest links EVER. You don't have a 'special theme' to have to write about, the post can be personal, sponsored, a photo, a review, a competition, your own linky, something you've linked to a linky….WHATEVER you like – it's one you've already written this week! If you want some publicity and attention, then you are in the right place!
Please make sure you go across and comment on at least two other linkers posts. Linkys work if everyone supports each other 🙂 then spread the #PoCoLo about this link up on Twitter. The post you link up has to have been written in the last week. The link will go up every Friday at 6.30am and close on Sunday evening at 8pm.
I have a list for the Newbie Showcase running into January 2015!! If you would like to be featured then please email me at vickywelton@hotmail.com so I can put you on the rota. Remember, your blog needs to be under a year old to feature.
This week's newbie showcase is a familiar name, with a not so familiar blog.  Say hi to Joy 🙂
Hi my name is Joy, I live in Gloucestershire and I mainly blog over at Pinkoddy Blog's. I decided to set up The Sensory Seeker because more and more of my posts seemed to be about disabilities. You see my oldest son has Asperger's Syndrome, and my youngest was being assessed for Autism. It has since been decided that he is not on the Autistic Spectrum and has had genetic screening (we are awaiting the results). What is definite is that he has Sensory Processing Disorder – and is a real Sensory Seeker – hence the name.
My first post was published on the 29th August 2013 which explains about Sensory Processing Disorder and ways to help a Sensory Seeker. I wanted these posts to be separate to those on Pinkoddy's blog because I appreciate how little time can be available to go looking for information – especially when you have a child with special needs to look after. With a new blog I could organise them so they were easier to find. With the aim of helping others access information, help, support and generally not feeling alone, for those with disabilities, or caring for those with disabilities I also started #SENBloggers – a Twitter party on a Wednesday evening (8:30pm-9:30pm but usually goes on longer).

I do have Social Media for The Sensory Seeker but it is probably best to follow me through Pinkoddy:
Twitter  Facebook  Google+  Pinterest  Instagram
So, whether you want to #PoCoLo, #SoFoLo or both, please pay Joy, and all the lovely linkers below, a visit. Have a great weekend xx
Link Your PoCoLo Posts here:
Go Over and Link Your #SoFoLo Klout Pages HERE.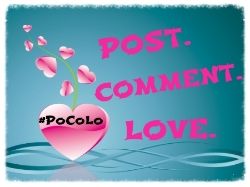 <div align="center"><a href="https://www.vevivos.com/post-comment-love" title="Post Comment Love"><img src=" http://i1322.photobucket.com/albums/u568/ToriWel/4e4a1bf6-07cb-494b-b06e-f959b1fe1311_zps654d027a.jpg" alt="Post Comment Love" style="border:none;" /></a></div>
Copyright protected by Digiprove © 2014 Victoria Welton