Welcome to Magic Moments over here on the new look Verily Victoria Vocalises. As you may know, Jaime from The Olivers Madhouse is off having an operation today so I have agreed to take care of business on her behalf. Please join me in wishing her a speedy recovery – and to her son Joshua now too, who appears to have caught the dreaded chicken pox 🙁
I have loved this linky ever since Jaime started it just over a year ago and I am really looking forward to seeing all the posts that link up here and the happiness that will emanate from them. It will be a lovely start to my week, so thank you in advance for putting a smile on my face.
Don't forget that linkys only work when people take the time to visit and share with others. With such a large crowd linking in please don't think you have to comment on every one. I know many of you don't have time for this and it's unrealistic, however please visit as many as you can manage.
For anyone visiting for the first time and would like to link up you can find more information HERE It would be great to see you linking up and sharing your #MagicMoments
If you would like to participate I would love it if you would pop on the Magic Moments badge or a link back to me and I will happily share your post on twitter. It also helps others to see where you are linking up and they may decided to pop over and link up too! Remember the more people that take part and link up, the more people that are likely to visit.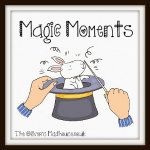 Copyright protected by Digiprove © 2014 Victoria Welton