The weeks are ticking by! We are back round to Friday and Post Comment Love! Welcome to you one and all. This week's PoCoLo image has been replaced with that of Sarah from Mum of Three World. If you want to pay her a visit, just click on her badge :). Also, wishing your daughter a very Happy Birthday Sarah 🙂 Please don't forget to display the #PoCoLo badge over on your post or blog which is at the bottom of this post! If you'd like to appear here then please don't forget to email me!
You know those weekends where you have loads of offers for things to do but all you really want to do is relax? Well, we have one of those! With Grace off to her fathers, Ross and I have decided we would just like to spend some time with each other. Which is exactly what we are going to do! With lots of walking thrown in for good measure so I can kept up with my new health and fitness regime.
If you are a fan of Magic Moments which appears every Monday over with Jaime at The Olivers Madhouse, I am just giving you a heads up that I am looking after matters for her this week whilst she tootles off to hospital for an operation. Please join me in wishing her well and a very speedy recovery.
Today is the final day that you can vote in the MAD Blog Awards so one last plug from me! If you would like to consider me for Most Innovative, Best Writer or even Blog of the Year then I would be really grateful.
Last week's #SoFoLo was all about Instagram and I hope it helped you. This week is all about attracting more people to your LinkedIn account. It's great for making connections and finding out all about the business side of blogging.  So pop over and share your profile.  Don't forget our #SoFoLo community too where you can come and post your PoCoLo post for some more +1s and shares as well as any of your social media accounts of yours that need more followers.
If you are a regular here then it would be great if you spread the #PoCoLo word. However, if you are new here then welcome! Post Comment Love is all about sharing posts which you have written this week which just haven't got the attention they deserve and, with them all in one place, we can help each other share the comment love. This is one of the easiest links EVER. You don't have a 'special theme' to have to write about, the post can be personal, sponsored, a photo, a review, a competition, your own linky, something you've linked to a linky….WHATEVER you like – it's one you've already written this week! If you want some publicity and attention, then you are in the right place!
Please make sure you go across and comment on at least two other linkers posts. Linkys work if everyone supports each other 🙂 then spread the #PoCoLo about this link up on Twitter. The post you link up has to have been written in the last week. The link will go up every Friday at 6.30am and close on Sunday evening at 8pm.
I have a list for the Newbie Showcase running into January 2015!! If you would like to be featured then please email me at vickywelton@hotmail.com so I can put you on the rota. Remember, your blog needs to be under a year old to feature. I believe I am currently up to date with your emails (for a change!).
This week's newbie showcase is Orlena over at Snotty Noses Blog. I will never forget the day Orlena linked up to PoCoLo, I remember thinking what a great blog name!
Hello, my name is Dr Orlena Kerek. I am a paediatric doctor from the UK. Two and a half years ago, we moved to Spain in a bid to give our kids a fabulous childhood. (We love doing outdoor stuff, but we're not hardy enough for the british climate.) At that time, we had 2 children. Now we also have twins. So nearly enough for a 5 a-side football team.
We love our new life in Spain. It's been challenging, learning spanish and catalan and integrating. But it's been such fun and an amazing adventure. (Catalan is a particular challenge for me but I have to learn it so that I can make sure the kids aren't being too cheeky!)
I blog at snotty-noses.com/blog which is a blog about healthy happy children and our life in Spain. There are section on sleep, healthy eating and healthy playing.
I also run 
snotty-noses.com
 which is a website aimed at helping parents know when their children (especially babies) are poorly and what to do about it. It is a labour of love and a work in progress. (I'm always looking for suitable photos or videos of illness).
So, come and say hello. I love to meet new friends. Remember to sign up to the newsletter so you don't miss any posts (and get my free How to Teach your Baby to Sleep pdf as well).
Find me on Facebook: SnottyNoses Pinterest: snottynoses
Twitter: @SnottyNoses
So, whether you want to #PoCoLo, #SoCoLo or both, please pay Liz, and all the lovely linkers below, a visit. Have a great weekend xx
Link Your PoCoLo Posts here:
Go Over and Link Your #SoFoLo LinkedIn Pages HERE.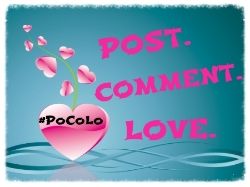 <div align="center"><a href="https://www.vevivos.com/post-comment-love" title="Post Comment Love"><img src=" http://i1322.photobucket.com/albums/u568/ToriWel/4e4a1bf6-07cb-494b-b06e-f959b1fe1311_zps654d027a.jpg" alt="Post Comment Love" style="border:none;" /></a></div>
I would love some votes in the MAD Blog Awards please. I was there last year as a finalist and would like the chance to be there again. I'd love to be considered for Most Innovative and Best Writer and possibly even Blog of the Year if you think I am worthy!  Please go across to http://www.the-mads.com/awards/ and enter my URL https://www.vevivos.com
Copyright protected by Digiprove © 2014 Victoria Welton