Welcome one and all to this week's Prose for Thought. Firstly, I must apologise for being a little off the pace recently and not getting round to everyone who has linked up here! I will make it up to you – I promise!
I don't know about you but the fact that Spring has Sprung has really put a bit more bounce in my step (I guess that is why they call it Spring!). I have started to exercise more, am reaching my targets on my Fitbug and am really enjoying walking Grace to and from school.
Yesterday we came home via Happy Valley – our local park which I have written about before. I took Grace's skipping rope with me so she could skip home but when we reached the park she wanted to play. I said to her that we couldn't be long because I had things to do. As I saw her running around from swing to zip slide to roundabout to hanging basket swing, I suddenly thought to myself why do we have to rush? There is no need. It is a sunny day and sometimes I just need to stop worrying and enjoy the moment. So we did.  Here is my take on that situation.
Strike the Balance
No I say I can't right now
I've got stuff to do
But Mummy that stuff can wait
I wait to play with you
Maybe in a bit I say
Now off you go and play
But Mummy I want to play right now
That's always what you say
The housework it won't do itself
Darling I have things to do
Not that I love doing it all that much
I'd rather play with you
Of course, then theres dinner
That needs to be put on your plate
I know you'd rather I played with you
Don't look at me with a faceful of hate
It's hard to know when to stop
It's hard just to put it down
But sometimes I need to pause
And turn my girl's frown upside down
So strike the happy balance
Is what I need to do
Hold on a second, wait a minute
Grace, I'll play with you
Victoria Welton 12th March 2014
If you have your own poem or piece of prose to share then grab my badge code and click the link below to enter your post. If you share a link back to my page in your post then you will be guaranteed some free publicity from me on Twitter! Don't forget to use #Prose4T when tweeting your post. Check out the Prose for Thought page for full details.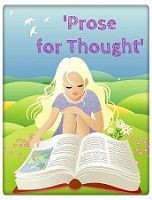 <div align="center"><a href="https://www.vevivos.com/prose-for-thought" title="Prose for Thought"><img src=" http://i1322.photobucket.com/albums/u568/ToriWel/Proseimagesmall_zps637beb08.jpg " alt="Prose for Thought" style="border:none;" /></a></div>
I would love some votes in the MAD Blog Awards please. I was there last year as a finalist and would like the chance to be there again. I'd love to be considered for Most Innovative and Best Writer and possibly even Blog of the Year if you think I am worthy!  Please go across to http://www.the-mads.com/awards/ and enter my URL https://www.vevivos.com
Copyright protected by Digiprove © 2014 Victoria Welton