Here we are again! Post Comment Love day! Welcome lovely people 🙂 I was so delighted to see 99 of you linking up last week – what a wonderful community of bloggers this is becoming. This week's PoCoLo image has been replaced with that of Kat Drury from over at Gingersnap Blog. If you want to pay her a visit, just click on her badge :). Please don't forget to display the #PoCoLo badge which is at the bottom of this post! If you'd like to appear here then please don't forget to email me 🙂
My week has been a fairly subdued one following last weekend. Grace went dressed as the Cat in the Hat for World Book Day yesterday. I have hardly seen poor Ross as he has been off working – and is away again this weekend…working!
I have started this month on a really positive vibe. I am testing out Diet Chef (which I LOVE and there will be a review for very shortly). I am also testing out the Fitbug Orb, which is fabulous and, I am pleased to say, that I will be running a competition very soon for the chance to win one of your very own.  I shall be updating my Health and Fitness Quest every Monday so pop on back then if you'd like to see how I am getting on.
This weekend, as Ross is away, is all about some girly time for me and Grace. We shall be going on walks, doing some crafts and possibly baking (if I can stand to keep the temptation of eating at bay!). We shall also be testing out some H and A products that were kindly sent to us and I will be taking part in a Google Hangout with Tots 100 next week to chat about this.
I hope the Twitter #SoFoLo helped you out last week. This week is all about attracting more people to your Instagram account. I do love Instagram. It is so easy to share photos over to Facebook and Twitter as well as link up with FourSquare. So pop over and share your profile. If you find yourself already following someone, then why not 'like' some of their photos and spread the love? Also, don't forget our #SoFoLo community where you can come and post your PoCoLo post for some more +1s and shares as well as any of your social media accounts of yours that need more followers. This week I shall be putting more of the posts that link up below over on to the G+ community page.
If you are a regular here then it would be great if you spread the #PoCoLo word. However, if you are new here then welcome! Post Comment Love is all about sharing posts which you have written this week which just haven't got the attention they deserve and, with them all in one place, we can help each other share the comment love. This is one of the easiest links EVER. You don't have a 'special theme' to have to write about, the post can be personal, sponsored, a photo, a review, a competition, your own linky, something you've linked to a linky….WHATEVER you like – it's one you've already written this week! If you want some publicity and attention, then you are in the right place!
Please make sure you go across and comment on at least two other linkers posts. Linkys work if everyone supports each other 🙂 then spread the #PoCoLo about this link up on Twitter. The post you link up has to have been written in the last week. The link will go up every Friday at 6.30am and close on Sunday evening at 8pm.
I have a list for the Newbie Showcase running into December 2014. If you would like to be featured then please email me at vickywelton@hotmail.com so I can put you on the rota. Remember, your blog needs to be under a year old to feature. I believe I am currently up to date with your emails (for a change!).
This week's newbie showcase is Liz over at Expression and Confession. She is a regular linker over here at PoCoLo and I always enjoy reading her posts.
Hi! I'm Liz, I'm a Mum of two girls aged three and one living in Manchester. I've been blogging since March 2013 at Expression and Confession. Why the title I hear you ask? Since the birth of my second child I felt compelled to find some outlet or 'expression' for my experiences as a mum of two. Oh – and the confession bit is me telling it warts and all (see this Bad Mummy post, for example).
My very first post was entitled 

Once upon a time…

 Written in the bath, this was my plea for mental space – I needed this blog to record, diarise and share my experiences. Since then it's grown so much. I mainly blog about children and parenting, but I have sneaked in the odd book review, recipe and beauty tip. I've joined a number of supportive blog networks, attended events, featured on 

BritMums

, 

Parentdish

 and 

Mumsnet

 – I've discovered a whole new world! Who knows where it will lead? I look forward to the future opportunities the blog may bring – and to reading more lovely posts by my fellow bloggers!
Expression and Confession
Expressing and confessing on life as a mum of two
@megster8
plus.google.com/liztownson
So, whether you want to #PoCoLo, #SoCoLo or both, please pay Liz, and all the lovely linkers below, a visit. Have a great weekend xx
Link Your PoCoLo Posts here:
Go Over and Link Your #SoFoLo Instagram Pages HERE.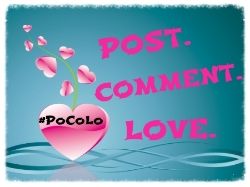 <div align="center"><a href="https://www.vevivos.com/post-comment-love" title="Post Comment Love"><img src=" http://i1322.photobucket.com/albums/u568/ToriWel/4e4a1bf6-07cb-494b-b06e-f959b1fe1311_zps654d027a.jpg" alt="Post Comment Love" style="border:none;" /></a></div>
I would love some votes in the MAD Blog Awards please. I was there last year as a finalist and would like the chance to be there again. I'd love to be considered for Most Innovative and Best Writer and possibly even Blog of the Year if you think I am worthy!  Please go across to http://www.the-mads.com/awards/ and enter my URL https://www.vevivos.com
Copyright protected by Digiprove © 2014 Victoria Welton