Welcome everyone to this week's Prose for Thought.
Every week I look forward to what people are writing and linking up and I have to say that over the last few weeks, more and more new people are adding in their poetry. What I really love is that no one forces their work or never feels obliged to be here. I have always felt that poetry should never be forced. It is something that is written when the mood takes us.
Today is World Book Day. Grace's school have asked them all to come dressed as animals, and, reprising her role from a couple of years ago, Grace is going dressed as the Cat in the Hat. We made the hat last night out of some paper, a cap, a red colouring pen and lots of sticky tape!
This got me thinking just how important books have been in my life and what a big part they have played. Grace has written about World Book Day on kidGLloves today and I am also publishing another post a bit later to introduce a great new app from Thomas Cook.
With all this in mind, I felt it only right and proper to dedicate today's poem to books.
Books
As I look back upon my youth
I remember the books I read
Sometimes on the beach
Sometimes in the lounge
But mainly I read them in bed
Trips to the library when I was small
Are something I'll never forget
The excitement of seeing
Pictures of some of the best
Characters I've ever met
I loved the film ones most of all
They took me far away
Empire Strikes Back and
Fame come to mind
Both read on my holiday
I read loads about ponies
And little dogs lost
I loved Judy Blume
I loved Enid Blyton
Saved pocket money up for the cost
So why a book I hear you cry
Why is it so important to me
They are like dreaming
When lying awake
And take me where I'd never see
Victoria Welton 5th March 2014
If you have your own poem or piece of prose to share then grab my badge code and click the link below to enter your post. If you share a link back to my page in your post then you will be guaranteed some free publicity from me on Twitter! Don't forget to use #Prose4T when tweeting your post. Check out the Prose for Thought page for full details.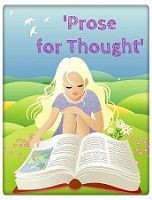 <div align="center"><a href="https://www.vevivos.com/prose-for-thought" title="Prose for Thought"><img src=" http://i1322.photobucket.com/albums/u568/ToriWel/Proseimagesmall_zps637beb08.jpg " alt="Prose for Thought" style="border:none;" /></a></div>
I would love some votes in the MAD Blog Awards please. I was there last year as a finalist and would like the chance to be there again. I'd love to be considered for Most Innovative and Best Writer and possibly even Blog of the Year if you think I am worthy!  Please go across to http://www.the-mads.com/awards/ and enter my URL https://www.vevivos.com
Copyright protected by Digiprove © 2014-2016 Victoria Welton