Welcome everyone to this week's Post Comment Love…with a difference! As you can see the usual PoCoLo Badge has been replaced with ANOTHER BLOGGER! This week it is the turn of Kate from Family Fever. If you want to pay a visit to her blog, just click on her badge :). Please don't forget to display the #PoCoLo badge which is at the bottom of this post!
This week has been a little bit all over the place as we try to get back into a normal routine following half term. On Tuesday I wrote all about the new campaign from Save the Children and then, yesterday, I put a poem on my blog in support of the campaign called #firstday.
This weekend we are off to Portland to spend some time with Ross' parents. I am really looking forward to getting away so I may be AWOL for a while over the weekend! But have no fear, I will be back to comment in earnest on Sunday and for the rest of next week!
I hope you got lots more people following you on Pinterest last week 🙂 This week is all about getting some more followers on the very straightforward Twitter. So pop over and share your profile. If you find yourself already following someone, then why not re-tweet something for them and spread the love? Also, don't forget our #SoFoLo community where you can come and post your PoCoLo post for some more +1s and shares as well as any of your social media accounts of yours that need more followers.
If you are a regular here then it would be great if you spread the #PoCoLo word. However, if you are new here then welcome! Post Comment Love is all about sharing posts which you have written this week which just haven't got the attention they deserve and, with them all in one place, we can help each other share the comment love. This is one of the easiest links EVER. You don't have a 'special theme' to have to write about, the post can be personal, sponsored, a photo, a review, a competition, your own linky, something you've linked to a linky….WHATEVER you like – it's one you've already written this week! If you want some publicity and attention, then you are in the right place!
Please make sure you go across and comment on at least two other linkers posts. Linkys work if everyone supports each other 🙂 then spread the #PoCoLo about this link up on Twitter. The post you link up has to have been written in the last week. The link will go up every Friday at 6.30am and close on Sunday evening at 8pm.
I have a list for the Newbie Showcase running into the end of November 2014. If you would like to be featured then please email me at vickywelton@hotmail.com so I can put you on the rota. Remember, your blog needs to be under a year old to feature. Apologies if you are waiting for me to get back to you – I am on the case!
This week's newbie showcase is Jo from Not A Frumpy Mum – a blogger I know nowhere NEAR enough about 🙂 Please make her feel welcome.
Hi, I'm Jo at Not A Frumpy Mum and have been been blogging for just over 6 months. Before I had my little boy, O, I didn't really know what blogging was about but gradually started to come across some when I was googling, usually something baby related, and loved reading real peoples stories and experiences. I'd contemplated starting one but something always seemed to get in the way, and the fact I'm a bit of a lazy mare didn't help.
Towards the end of the summer holidays last year I decided to give it a go. As a kid I used to love writing stories and in my job as a Maths teacher, I don't get too many opportunities to be creative, so I hoped blogging would give me the chance to do that. What I didn't know back then was just how addictive blogging can be and what a big part of my life it would become. I think I must bore hubby to tears going on about it, but he loves the fact that I've found something I'm so passionate about.
My favourite thing about blogging is that it is creating an online baby record book to capture all of my little mans precious moments, and the not so great ones too. You'll find lots of tales about O, me being a mum, a few rants about teaching (with the odd nice tale in there to balance it out), and a few random things that pop into my head. I also love to join up with Linkys, a great way to find new blogs and catch up with your faves.
I've been amazed, and overwhelmed, at just how lovely the blogging community are. There are some bloggers I chat to a lot more often than I do some of my real-life friends. I'm gutted I can't make Britmums Live this year as I would love to meet up in real life and have a good catch up over a bottle of gin.
I blog at http://notafrumpymum.com and I'd love you to pop over and say hi. You can find me on twitter at https://twitter.com/notafrumpymum and I have a slightly neglected Facebook page at https://www.facebook.com/notafrumpymum.
Thank you so much Victoria for letting me showcase, it's been an privilege to be included. Have a fantastic weekend, and I hope to see some of you over in my little space some time soon.
So, whether you want to #PoCoLo, #SoCoLo or both, please pay Jo, and all the lovely linkers below, a visit. Have a great weekend xx
Link Your PoCoLo Posts here:
Go Over and Link Your #SoFoLo Twitter Pages HERE.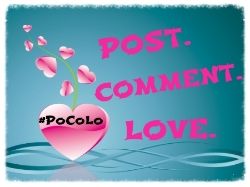 <div align="center"><a href="https://www.vevivos.com/post-comment-love" title="Post Comment Love"><img src=" http://i1322.photobucket.com/albums/u568/ToriWel/4e4a1bf6-07cb-494b-b06e-f959b1fe1311_zps654d027a.jpg" alt="Post Comment Love" style="border:none;" /></a></div>
Copyright protected by Digiprove © 2014-2017 Victoria Welton