Welcome one and all to this week's Post Comment Love. This week, as mentioned on my Facebook page a couple of days ago, I'm introducing something that is down for sharing the love to you lovely linkers just a little bit more. Basically if you would like to feature your badge to the left of this writing (in the space where the PoCoLo Badge would normally go!) then just send me an email at vickywelton@hotmail.com. It means that we not only have the newbie showcase but now other bloggers can get in on the act too! And Kate at Family Fever – I am well aware you are up first if you want to be! 🙂
The other thing I have noticed as I get round every single linker is that some of you don't get any comments bar me and maybe one other. So, I am opening up another linky – underneath the regular PoCoLo one – called Extra Comment Love for people whose links from the previous week got less than 2 comments and remain that way! If you are one of those people then please re-link and try again! And people of PoCoLo, please show them some extra love! 🙂 (If I notice any on my travels then I will link them for you!).
This week has been all about half term for me and Grace 🙂 Yesterday we ventured to London and, for the first time, we met Cathie from Wicked World of Lucas and Lucas – who writes a blog with Grace called kidGLloves. Unfortunately we found out yesterday that kidGLloves is not eligible for the MAD Blog Awards so please don't waste your votes and, please, if you have already voted for them then contact the lovely people to let them know so that you can re-vote and give it to another worthy recipient.
Once again #SoFoLo had plenty of linkers and I hope you got lots more people following your page on Facebook. This week is all about getting some more followers on Pinterest. So pop over and share your profile. If you find yourself already following someone, then why not re-pin something for them? Also, don't forget our #SoFoLo community where you can come and post your PoCoLo post for some +1s and shares!
If you are a regular here then it would be great if you spread the #PoCoLo word. However, if you are new here then welcome! Post Comment Love is all about sharing posts which you have written this week which just haven't got the attention they deserve and, with them all in one place, we can help each other share the comment love. This is one of the easiest links EVER. You don't have a 'special theme' to have to write about, the post can be personal, sponsored, a photo, a review, a competition, your own linky, something you've linked to a linky….WHATEVER you like – it's one you've already written this week! If you want some publicity and attention, then you are in the right place!
Please make sure you go across and comment on at least two other linkers posts. Linkys work if everyone supports each other 🙂 then spread the #PoCoLo about this link up on Twitter. The post you link up has to have been written in the last week. The link will go up every Friday at 6.30am and close on Sunday evening at 8pm.
I have a list for the Newbie Showcase running into October 2014. If you would like to be featured then please email me at vickywelton@hotmail.com so I can put you on the rota. Remember, your blog needs to be under a year old to feature. Apologies if you are waiting for me to get back to you – I am on the case! 
This week's newbie showcase is Nik from Through Niks Lens who stepped in when I offered the opportunity on Wednesday because someone else dropped out.She and I met through the Team Honk Relay on a rather soggy day in Bridgwater back in January. Unusually – for a blogger(!) – I have also met her hubby when he came to drop the baton back to me.. Welcome Nik…
I'm really excited to be featured in this weeks 'Newbie Showcase' #PoCoLo, thanks for having me 🙂
I've been reading blogs for years now, I'm interested in real people, real live's and seeing what they get up too. I've always been keen on the idea of starting my own but never felt quite confident enough to do so. I'm not brilliant at spelling and grammar and I didn't think anybody would be interested. Then in June of last year I decided (with some motivation from a blogging friend) to give it ago, albeit very quietly at first whilst I slowly learnt the ropes.
I had previously been using facebook as a mini blog of sorts, uploading photos of all our adventures, hobbies and interests. Updating statues with my opinions, stories and funny things the kids got up to. So it made sense to document all these things in a blog, rather than filling up everyones news feeds. Friends and family could keep up to date and I would have a journal to look back on, which some day my children can see, plus anybody else who happens to come across it and enjoy it.
We are a family of five living in a small seaside town of Somerset. There's myself, the husband and our three boys, aged 14, 10 and 6. I chose the blog name 'Through Niks Lens' as I like to share what I see through my lens, onto my blog. I'd say I write a family-lifestyle-photo blog, but I pretty much write about anything that takes my fancy and photograph lots of things. Recently I've taken part in the 'no supermarket challenge' and I've shared posts on memory making, upcycled crafts, family fun and the charity fundraising work I do. This year will also see the blog follow my complete home make over project, a fashion challenge, lots more Somerset photography and places, along with everyday life.
I absolutely love blogging now, it's my little place and me time I look forward to everyday. I like to think I've made a few new friends from it too, I've also found some fantastic new blogs to read. Thanks Vic for giving me the opportunity to write this post and for holding the #PoCoLo linky.
You can read my blog here: http://www.throughnikslens.blogspot.co.uk  Follow me Facebook & Twitter 
So, whether you want to #PoCoLo, #SoCoLo or both, please pay Nik, and all the lovely linkers below, a visit. Have a great weekend xx
Link Your PoCoLo Posts here:
Link Your Extra Comment Love Posts here:
Go Over and Link Your #SoFoLo Pinterest Pages HERE.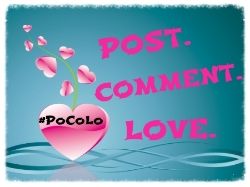 <div align="center"><a href="https://www.vevivos.com/post-comment-love" title="Post Comment Love"><img src=" http://i1322.photobucket.com/albums/u568/ToriWel/4e4a1bf6-07cb-494b-b06e-f959b1fe1311_zps654d027a.jpg" alt="Post Comment Love" style="border:none;" /></a></div>
Copyright protected by Digiprove © 2014-2017 Victoria Welton