Welcome to this week's Prose for Thought. Firstly, I have to say a truly massive thank you to everyone who was so supportive to me last week. I got lots of lovely messages – both on my blog and in private and I am truly grateful.
I am pleased to say that my 'wobbly moment' brought me and Ross closer than ever. He was understanding and supportive of me and my feelings so I am also very grateful to him as well as all of you. I am feeling much more like my old self this week (bar the shoulder!) and far more positive.
On Tuesday I wrote about my visit to the Save the Children Headquarters for their blogger conference nearly two weeks ago. What I heard there really put Grace's life into perspective for me, and just how lucky she is living in this country with warmth, safety and food and where her version of a gun has NERF written all over it and shoots sponge bullets. Funnily enough, yesterday evening, just after I wrote the following poem, Grace was playing spies on the landing forming her hands into a pretend gun – I knew then that I had written the right poem this week. There are children in Syria living in conflict every day. Please go and visit the Save Syria's Children Page. If you donate before Sunday 23rd February then the Government will match your donation penny for penny.
Another World
In another world this would be fun
And there would be no fear
The bullets would be made of sponge
As my target got ever near
In another world I could be a child
This would be a state of play
And my Dad, he would join in
I'd feel safe every day
In another world I wouldn't know
The meaning of going without
I'd be warm lying in my bed
There would be no drought
In another world I could be a child
Instead of getting old before my time
My Mum would ask how my day had been
And I would reply to her 'oh, it was fine'
In another world I would see
No pain and no suffering
I could live without a care
My heart would truly sing
I'm in my world, it's what I know
Theirs shouldn't be this way
So please remember the other world
When you watch your children play
Victoria Welton 19th February 2014
If you have your own poem or piece of prose to share then grab my badge code and click the link below to enter your post. If you share a link back to my page in your post then you will be guaranteed some free publicity from me on Twitter! Don't forget to use #Prose4T when tweeting your post. Check out the Prose for Thought page for full details.



I would love some votes in the MAD Blog Awards please. I was there last year as a finalist and would like the chance to be there again. I'd love to be considered for Most Innovative and Best Writer and possibly even Blog of the Year if you think I am worthy!  Please go across to http://www.the-mads.com/awards/ and enter my URL https://www.vevivos.com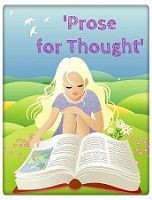 <div align="center"><a href="https://www.vevivos.com/prose-for-thought" title="Prose for Thought"><img src=" http://i1322.photobucket.com/albums/u568/ToriWel/Proseimagesmall_zps637beb08.jpg " alt="Prose for Thought" style="border:none;" /></a></div>
Copyright protected by Digiprove © 2014 Victoria Welton