Welcome everyone to this week's Post Comment Love which this week, appropriately, falls on Valentines Day. Firstly I need to say thank you to all the lovely, kind people who said such supportive things on my Prose for Thought post yesterday. You guys out there in Internet land are so kind and loving and sometimes I forget how lucky I am to have a great big virtual hug.
Tonight Grace and I are off to the ball! A Valentines Ball where Ross and his band, D-State, are playing meaning that I will get serenaded on Valentines Day. Not many girls can claim to be that lucky :). It is also now half term! Yippee! It means that we have a few plans over the next week and, for the first time EVER, Lucas and Grace who blog together over on kidGLloves will be meeting each other. I think Cathie (Lucas' Mum who writes at Wicked World of Lucas) and I will need lots of 'Mummy Juice' that day! Watch out London, that's all I can say!
This week saw the voting open up for the MAD Blog Awards 2014. As most of you know I had the absolute honour of being a finalist in the Most Innovative Category last year and I would sincerely love to get there again in either the same category or that of Best Writer! (Grace says: Please don't forget about kidGLloves for Best New Blog or Best Schooldays please! Lucas will give you all his Haribo!). I have to say that I am so lucky to get to read so many wonderful blogs every week with #PoCoLo that it is SO hard to choose who to vote for!
#SoFoLo was an AMAZING success last week and we ended yesterday on an outstanding 80 linkers! I hope you got lots of new followers – mine have nearly doubled in the last week! Plus, don't forget the #SoFoLo Group on Google +. If you share your #PoCoLo posts there as well as here then I will ensure they get +1ed and re-shared too! Please also +1 your fellow members :). This weeks #SoFoLo link up is to get more Facebook followers – you can find the post here.
If you are a regular here then it would be great if you spread the #PoCoLo word. However, if you are new here then welcome! Post Comment Love is all about sharing posts which you have written this week which just haven't got the attention they deserve and, with them all in one place, we can help each other share the comment love. This is one of the easiest links EVER. You don't have a 'special theme' to have to write about, the post can be personal, sponsored, a photo, a review, a competition, your own linky, something you've linked to a linky….WHATEVER you like – it's one you've already written this week! If you want some publicity and attention, then you are in the right place!
Please make sure you go across and comment on at least two other linkers posts. Linkys work if everyone supports each other 🙂 then spread the #PoCoLo about this link up on Twitter. The post you link up has to have been written in the last week. The link will go up every Friday at 6.30am and close on Sunday evening at 8pm.
I have a list for the Newbie Showcase running into October 2014. If you would like to be featured then please email me at vickywelton@hotmail.com so I can put you on the rota. Remember, your blog needs to be under a year old to feature. Apologies if you are waiting for me to get back to you – I am on the case! 😉
This week's newbie showcase is Afra from Mad Mum of 7 – who doesn't feel like a newbie at all anymore! She is one of the first people I bumped into at BritMums Live last year. Jaime (The Olivers Madhouse) and I were sitting in Starbucks and we knew straight away she was a blogger – she was on her laptop tweeting! Welcome Afra…
I am so excited to be featured this week – it feels very appropriate to me with #PoCoLo launching on Valentine's Day. I have been blogging for just over one year and its been filled with bloggy love from my fellow writers. I started madmumof7.com ( named as I am a mother of 7!) on New Year's Day 2013 after I realised this was finally the year I would have lots more free time in the daytime with my youngest starting full time school. Bearing in mind I have been trudging up the same school drive constantly for 14 years already as my eldest is almost 20…
I used to be a journalist and news editor but didn't want to go back into an office so thought I'd give online content writing a go. I started my blog as a bit of an online CV and then fell in love with the whole bloggy world. Mwah Mwah to all the lovely people I've met so far.
Anyway, my blog doesn't really fit into a genre. I blog about my life past and present with anecdotes, opinions and reviews scattered as and when things jump into my head or inbox. I do write about the children but it's not a parenting blog. I am a Christian but its not a God-blog. I like to cook (and eat) and love shabby chic-ing my home but I'm not a food or lifestyle/interiors blog. Think of madmumof7 as a magazine – varied and largely lighthearted and great for flicking through while you are on the loo! Aiming for smiles and hoping for the occasional LOL.
I love #PoCoLo and credit the linky with giving me confidence, an increasing readership and some fab blogs to follow. Thankyou so much Vic for all your hard work running it.
Afra     Find Mad Mum of 7 on Twitter and Facebook.
Wow, that is some compliment! Thank you so much Afra. So, whether you want to #PoCoLo, #SoCoLo or both, please pay Afra, and all the lovely linkers below, a visit on this Valentines Day with lots of bloggy snoggys! Have a great weekend xx
Link Your PoCoLo Posts here:
Go Over and Link Your #SoFoLo Google + Pages HERE.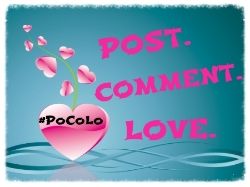 <div align="center"><a href="https://www.vevivos.com/post-comment-love" title="Post Comment Love"><img src=" http://i1322.photobucket.com/albums/u568/ToriWel/4e4a1bf6-07cb-494b-b06e-f959b1fe1311_zps654d027a.jpg" alt="Post Comment Love" style="border:none;" /></a></div>
Copyright protected by Digiprove © 2016 Victoria Welton