Welcome to this week's Prose for Thought and thank you to everyone who linked up last week. As you may know, Helen from All at Sea and I both co-edit the BritMums Poetry and Prose round-up. This month is Helen's turn and you can see her post here.
This week I haven't really felt that creative for some reason or another. I am in a more pratical mood. So, I decided to go through my old poetry book which sits in my cupboard full of poems and song lyrics and I came across a poem I wrote when I joined a writing circle for a period of time after I had Grace and lived with my Mum. Whilst there one evening we were given the title 'The End Result' and this is what I came up with in the ten minutes we were given.
The End Result
Time to enter
The cold, dank courtroom
Eyes staring, glaring
An atmosphere of anticipation
What's the end result?
Time to enter
The stuffy, robed Judge
Sympathetic or accusing
Which way will he turn?
What's the end result?
Time to enter
The confused accused
Stammering, stuttering
Will he say the right thing?
What's the end result?
Time to enter
The decided Jury
Minds mind up
Verdict? Guilty.
That's the end result
© Victoria F J Welton 21st February 2008
If you have your own poem or piece of prose to share then grab my badge code and click the link below to enter your post. If you share a link back to my page in your post then you will be guaranteed some free publicity from me on Twitter! Don't forget to use #Prose4T when tweeting your post. Check out the Prose for Thought page for full details.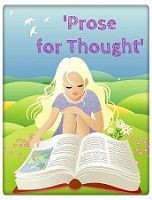 <div align="center"><a href="https://www.vevivos.com/prose-for-thought" title="Prose for Thought"><img src=" http://i1322.photobucket.com/albums/u568/ToriWel/Proseimagesmall_zps637beb08.jpg " alt="Prose for Thought" style="border:none;" /></a></div>
Copyright protected by Digiprove © 2014 Victoria Welton