Last Wednesday I told you that I was starting the Exante Diet and would be carrying out the Total Solution option which meant having a diet product for breakfast, lunch and dinner. It was hard. Very, very hard. I was basically consuming 600 calories a day. I added nothing but water. (upon the advice of Mammasaurus I did add some herbs to some of the meals to pep them up a bit). I wasn't supposed to eat anything else and on the whole I didn't except a few squares of dark chocolate.
While following Exante Diet your body will consume fewer calories than your body requires on a daily basis creating a calorie deficit. After 2-4 days your body will enter a normal metabolic state called Ketosis where your body will use its fat stores to produce energy. Even if you weren't following a diet most people will enter a state of ketosis at some point in a 24-hour cycle, usually when asleep.
My favourite products were:
All of the diet shakes. They were creamy and refreshing
Shepherds pie. Tasty and easy to eat
Porridge. A to Z Mummy told me they were delicious and she wasn't wrong
The product I didn't enjoy:
Mushroom Risotto. I normally love mushrooms. This was just yuck!
Over the weekend was probably the hardest thing as well as cooking Grace's tea and making her lunch box. There was a major temptation to nick a bit (!) but I didn't. Ross was really considerate and offered to eat his meals in a different room but I wouldn't hear of it and told him that it would be an added test of my willpower!
Exercise? Well, basically, I didn't do any!! (Bit embarrassed about that one). I did start my 'squats' regime yesterday and intend to do that every day. I did want to do planking but can't at the moment because of my shoulder.
The Ketosis did hit me hard and I was constantly brushing my teeth. Over the weekend I got rather moody and cross because I wanted to eat with my family – but they were understanding and very supportive. It also sort of helped that Ross was away for some of it so I just kept myself busy.
I've also rediscovered another love. Green tea. I haven't really drunk any for ages but I had to substitute my coffee intake with something. I had forgotten how much I liked it and how good it is for you. It speeds up your metabolism which means you burn more calories. I'm sticking with that new habit!
So, how did I fair? Here are my results:
Weight on 25th January 2013: 149.0lbs
Weight on 22nd January 2014: 179.9lbs
Weight on 29th January 2014: 175.3lbs
A loss of 4.6lbs in 7 days!
I am so pleased! I am already feeling better. I don't think I could keep the Total Solution option up for another week but I certainly don't want to undo the work I have put in over the last week. From today I will be making better choices and continuing to lose the extra weight I have put on over the last year.
Disclosure: I have been provided with 7 days worth of products from the Exante Diet to carry out the Total Solution plan. Please note that all views and opinions expressed are my own and have not, and will not, be influenced in any way.
Linking up to Wobbles Wednesday with Autism Mumma.
And to Get Fit Mummy at The Mad House of Cats and Babies.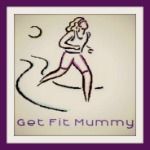 Copyright protected by Digiprove © 2014-2015 Victoria Welton