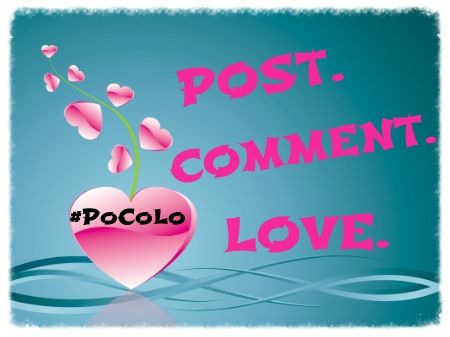 So, it's the last weekend in January eh?! And Post Comment Love time of the week of course! We are about to enter one of my favourite months of the year – February. Good things seem to start happening in February as the weather starts to get a bit brighter (sometimes bringing snow!), the days get a bit longer and we all start looking forward to Spring. It also holds good memories as it was the month Ross and I started seeing each other 🙂
This last week has found me losing my way a little on the blogging front and I wrote about how I want to get this blog 'back to me' which I am pleased to say I am succeeding in. I reignited my passion for acting this week as well as started a new diet. It may have taken me until the end of January to kick start my year but, hey, I'm comfortable with that! I'm not going to go on about my shoulder anymore but I did write a post explaining what a 'frozen shoulder' is all about.
This weekend Ross is off MCing a huge party in Gloucestershire so it will be me and Grace getting some girly time in. The RSPB have the Big Garden Birdwatch this weekend so we will be making some bird food and spending some time in the garden (so long as the rain stays away!). Then we will spend an hour each day spotting birds!
Because #PoCoLo is so busy now – thank you so much to all of you for making it such a success – I will be commenting on all posts (even if it takes me to the following PoCoLo and beyond!) BUT I will only be tweeting your post if you either are displaying the PoCoLo badge or linking back to my blog. This is by way of a thank you from me to you for supporting the linky.
If you are a regular here then it would be great if you spread the #PoCoLo word. However, if you are new here then welcome! Post Comment Love is all about sharing posts which you have written this week which just haven't got the attention they deserve and, with them all in one place, we can help each other share the comment love. This is one of the easiest links EVER. You don't have a 'special theme' to have to write about, the post can be personal, sponsored, a photo, a review, a competition, your own linky, something you've linked to a linky….WHATEVER you like – it's one you've already written this week! If you want some publicity and attention, then you are in the right place!
The only rules are that you comment on at least two of the other posts in the link (maybe the one above and one below yours?!) and then spread the #PoCoLo about this link up on Twitter. The post you link up has to have been written in the last week. The link will go up every Friday at 6.30am and close on Sunday evening at 8pm. Remember, the more people who link up, the more attention your post is likely to get so please spread the Post Comment Love word and #PoCoLo. Also, don't forget to display the PoCoLo Badge (code below), again the more people who see it, the more attention your lonely post will get.
I have a list for the Newbie Showcase running into September 2014. If you would like to be featured then please email me at vickywelton@hotmail.com so I can put you on the rota. Remember, your blog needs to be under a year old to feature. Apologies to those I haven't got back to yet – I will be in touch very shortly.
This week's blog is one I have been following with interest from her outset. When Orli sent me her write-up she told me that she was (maybe overly) excited to be featured. I am excited to feature you too lovely lady 🙂
My name is Orli, I am a 30 plus mum of two wonderful boys – Ron (almost 9) and Yon (almost 5), and I blog at Orli, Just Breathe for the past year and a half. I started the blog about a week after we moved to London from Gibraltar (where we lived for about 3 years), and so aptly enough my first post, published in July 2012, was about looking for a place to live in London (it was somewhat of a mission impossible as we only had about a week to find schools for the boys and a home to live in).
I blog about everything that goes on in our lives, mostly to stay sane and to remind myself to take a moment and just breathe. You'd be surprised how much goes on in our lives, some of it bad, some of it good, and hopefully all of it funny (or at least sarcastic). In the last year and a half my blog has seen me through some rough times when we discovered our youngest has Ocular Albinism, when the immigration process took longer than expected and was harder than anticipated, when life was just too much. It has also given me more than I could have ever hoped for in the form of good friends, a supportive community and a sense of belonging and has seen me through some wonderful times when life was much better than I hoped, when living in London was better than expected, when the boys grew and blossomed.
So I want to say thank you to Victoria for inviting me to her blog and for showcasing mine, and invite you all to visit my blog 🙂
Blog – http://londondegani.blogspot.co.uk
Facebook – https://www.facebook.com/orlijb
Twitter – https://twitter.com/orli_hidai
If you are not familiar with Orli's blog then I suggest you make it so! And don't forget the other lovely linkers below. Have a wonderful weekend 🙂 xx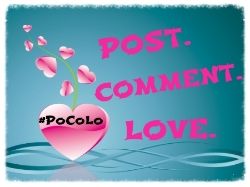 <div align="center"><a href="https://www.vevivos.com/post-comment-love" title="Post Comment Love"><img src=" http://i1322.photobucket.com/albums/u568/ToriWel/4e4a1bf6-07cb-494b-b06e-f959b1fe1311_zps654d027a.jpg" alt="Post Comment Love" style="border:none;" /></a></div>
Copyright protected by Digiprove © 2014 Victoria Welton