Welcome to this week's Prose for Thought and to the steady stream of linkers that I am pleased to see each week and read some amazing creativity. The talent out there knows no bounds.
On Tuesday of this week I was lucky enough to get an acting job, appearing in a documentary about Stonehenge which should be shown on one of the BBC channels around June and the Summer Solstice. I haven't acted for a while now and I had 'sort of' given up thinking that I will never really go anywhere with it BUT being back on set again and in costume, playing someone else, made me remember just how much I love this profession and how much I truly want to do it. I do have an Agent, I am trying to better myself and I really believe that if I keep trying I will get there one day.
This has been the inspiration behind my poem this week.
My Passion
I reignited the spark today,
The one I thought had gone
I thought that it had gone away
but now I know I'm wrong
It really is so strong
The feeling I have inside
It's one I've had so long
And something I just can't hide
I want to do it so much
So much with all my heart
I try hard to stay in touch
With the love I have for my art
I've tried so hard to leave it
And forget that it just won't be
There are times I don't believe it
There are times when it makes me see
Because one day it will be my turn
To make a living this way
This flame I have is a slow burn
My passion will have it's day
© Victoria F J Welton 21st January 2014
If you have your own poem or piece of prose to share then grab my badge code and click the link below to enter your post. If you share a link back to my page in your post then you will be guaranteed some free publicity from me on Twitter! Don't forget to use #Prose4T when tweeting your post. Check out the Prose for Thought page for full details.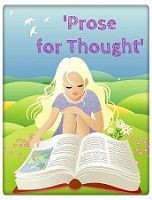 <div align="center"><a href="https://www.vevivos.com/prose-for-thought" title="Prose for Thought"><img src=" http://i1322.photobucket.com/albums/u568/ToriWel/Proseimagesmall_zps637beb08.jpg " alt="Prose for Thought" style="border:none;" /></a></div>
Copyright protected by Digiprove © 2014 Victoria Welton