This week on Prose for Thought I couldn't let my Team Honk relay experience go unnoticed – and in case you have been living under a rock for the past couple of weeks and are not sure what I am wittering on about go over and have a look at two of the posts I have already written about the biggest blogger relay you have ever seen – here and here.
As soon as I finished the Somerset leg on Tuesday and had the chance to sit down in the evening, I found that I was very emotional about the whole thing. The fact that the costume theme seems to have taken off in a BIG way is tremendous and I am so proud of Champion the Wonder Horse (for that is what she has been named!). The biggest thing is realising what a massive impact such a small group of people in the South West has already made. As I said to Penny, Annie and Tanya – if a small group of people in the South West can make this much noise, just think how massive this is going to be by the time it gets to John O'Groats. At this rate I reckon every one involved will want to be there at the finish as I know that Team Honk are looking for bloggers to get it there!
Following my emotional state, the words came easily just after midnight on Tuesday night/Wednesday morning!
Small in number, big in stature
Admit it though Somerset, we came atcha!
We started up the costume trend
People thought us round the bend
But you know what? I just don't care
We did it all with style and flare
Jenny donned a sumo suit
In a bid to drum up loot
And the banana? Well that was Gina
Missed it? Well you shoulda seen her
Champion became my faithful pal
And by jove, didn't she do well?
We first invaded Taunton town
Not quite sure how that went down
Saying goodbye to Sumo and banana
I was sad – we had great karma
Bridgwater was next on my list
Whilst driving there in rain it …..(insert suitable rhyming word here!)
Nik Nak and her Challenge Twelve crew
Were the next to do the do
The baton was then brought back to me
If it had been human I'd have made it tea!
Next morning with Champion no longer a stranger
I drew on a mask and became the lone ranger
Stopping off at school with Grace
I loved the look on the teachers face
Yeovil then got all of me
Stopped in the salon and got a coffee
Then once again upon the road
It was off to Dorchester I strode
To hand the baton to the Rock 'n' Roll Mum
My time was up, my job was done
I had a great big honking time
So grateful that the weather stayed fine
So if you haven't done it yet
Go on! Sponsor Team Somerset!
© Victoria F J Welton 14th January 2014
If you have your own poem or piece of prose to share then grab my badge code and click the link below to enter your post. If you share a link back to my page in your post then you will be guaranteed some free publicity from me on Twitter! Don't forget to use #Prose4T when tweeting your post. Check out the Prose for Thought page for full details.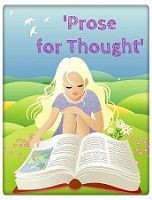 <div align="center"><a href="https://www.vevivos.com/prose-for-thought" title="Prose for Thought"><img src=" http://i1322.photobucket.com/albums/u568/ToriWel/Proseimagesmall_zps637beb08.jpg " alt="Prose for Thought" style="border:none;" /></a></div>
Copyright protected by Digiprove © 2014 Victoria Welton