Welcome to this week's Prose for Thought. In case you haven't seen this month's BritMums Poetry and Prose roundup then pop over here. You never know, you may just find yourself there!
I have decided to try something different this week. I am currently reading 'Matilda' by Roald Dahl to Grace and this is her second time around – although Grace is much older now and I find that she understands it better and is enjoying it in a different way to the last time around. There is a chapter where we meet Miss Honey who asks Matilda about poetry and limericks and, on the spot, Matilda makes one up. Miss Honey congratulates her and tells her that these are very hard to write, so I thought I would set myself a challenge and write one about each of us! I got so carried away I actually wrote 4 in the end – I'd love to know what you think.
There was a young lady from Bow
Who sure had a long way to go
She took out some loot
But just got one boot
Which saw her through rain, sleet and snow
GRACE
There once was a young girl called Grace
Who travelled all over the place
Sometimes she rode
And sometimes she strode
And sometimes fell flat on her face!
ROSS
There once was a gentleman called Ross
Who was obsessed with wanting to floss
It was all fine and dandy
Til one day he used candy
And the sugar showed his teeth who was boss
VIC
There once was a woman called Vic
Whose hair was incredibly thick
She brushed it so hard
Whilst reciting the bard
Of Shakespeare plays she had her pick
© Victoria F J Welton 8th January 2014
If you have your own poem or piece of prose to share then grab my badge code and click the link below to enter your post. If you share a link back to my page in your post then you will be guaranteed some free publicity from me on Twitter! Don't forget to use #Prose4T when tweeting your post. Check out the Prose for Thought page for full details.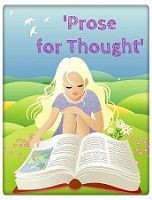 <div align="center"><a href="https://www.vevivos.com/prose-for-thought" title="Prose for Thought"><img src=" http://i1322.photobucket.com/albums/u568/ToriWel/Proseimagesmall_zps637beb08.jpg " alt="Prose for Thought" style="border:none;" /></a></div>