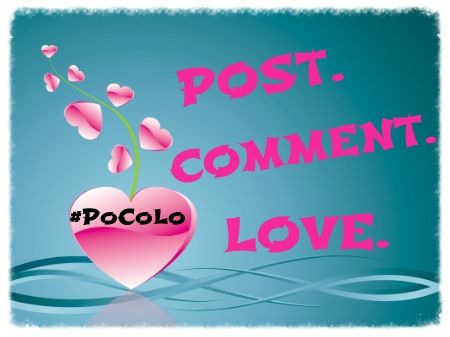 Welcome, welcome one and all to the first Post Comment Love of 2014.  I hope you all had a wonderful Christmas and enjoyed your New Years Eve celebrations whatever you decided to do. Happy New Year!
I had a wonderful time with both mine and Ross' family and, apart from me suffering from a bit of a bug in between, we all had a great time. Yesterday was Grace's birthday and over on Prose for Thought I wrote her a poem. We had a wonderful time and went to watch 'The Hobbit: The Desolation of Smaug' in the afternoon. I did think that Grace would turn her allegiance and start to prefer Tauriel but no, she has stayed true to Legolas! This afternoon we are off to Build-a-Bear in Exeter with 5 of Grace's school friends for a little bit of a party.
This weekend sees us getting all our affairs in order ready for the return to school, work and whatever is classed as normality in this house! I am really looking forward to reading lots of lovely blog posts courtesy of #PoCoLo too.
In case you haven't seen it yet, Cathie from Wicked World of Lucas and I set up a new blog written in the words of our children – and Cathie's dog, Ash – called 'kidGLloves'. We hope that you will show it some Love :). And over on BritMums, I have edited  last months round-up for all those talented poetry and prose writers out there.
Also, a little bit of a shameless plug – I would love it and appreciate it immensely if you would consider my blog for a vote in the UK Blogging Awards. My blog is up for the Lifestyle award. I doubt very much that I will win but I would love a few votes at least.  The link is here or you can click on the image in the side bar.
Apologies if you have written to me about being a newbie showcase and I haven't written back to you yet – I will make sure I do that this weekend.
Because #PoCoLo is so busy now – thank you so much to all of you for making it such a success – I will be commenting on all posts (even if it takes me to the following PoCoLo and beyond!) BUT I will only be tweeting your post if you either are displaying the PoCoLo badge or linking back to my blog. This is by way of a thank you from me to you for supporting the linky.
If you are a regular here then it would be great if you spread the #PoCoLo word. However, if you are new here then welcome! Post Comment Love is all about sharing posts which you have written this week which just haven't got the attention they deserve and, with them all in one place, we can help each other share the comment love. This is one of the easiest links EVER. You don't have a 'special theme' to have to write about, the post can be personal, sponsored, a photo, a review, a competition, your own linky, something you've linked to a linky….WHATEVER you like – it's one you've already written this week! If you want some publicity and attention, then you are in the right place!
The only rules are that you comment on at least two of the other posts in the link (maybe the one above and one below yours?!) and then spread the #PoCoLo about this link up on Twitter. The post you link up has to have been written in the last week. The link will go up every Friday at 6.30am and close on Sunday evening at 8pm.
Remember, the more people who link up, the more attention your post is likely to get so please spread the Post Comment Love word and #PoCoLo. Also, don't forget to display the PoCoLo Badge (code below), again the more people who see it, the more attention your lonely post will get.
I have a list for the Newbie Showcase running into August 2014! If you would like to be featured then please email me at vickywelton@hotmail.com so I can put you on the rota. Remember, your blog needs to be under a year old to feature.
For the first newbie showcase of the year, I would like to introduce one of the lesser known bloggers. Lystra over at Two Years Old and Rising. I am looking forward to reading more about her this weekend.

My name is Lystra and I am mum to Raffie, who's three in April. I'd been warned about the terrible twos, so decided to start my blog the month after his second birthday. I was hoping it would be a chance to share my own experiences but also to hear some words of wisdom from others in the same parenting boat. So far it's embraced taking an egg to the park, why mummies don't have winkies, and the joys of joke telling.
I also like to include other blogs I like in my regular Blogarama. We live in Gloucestershire and since starting to blog I've been lucky enough to make online friends with people from all over the world-and most of them don't get much sleep either!
My blog is called Two Years Old and Rising, with a tagline The Terrible Twos-the good, the bad and the ugly.
Here is the website http://twoyearsblog.wordpress.com/
Welcome Lystra as this week's newbie showcase and please pay some of your fellow linkers a visit. Thanks for linking to this week's #PoCoLo. Have a great weekend xx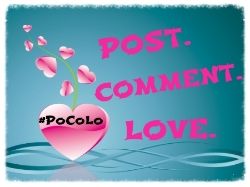 <div align="center"><a href="https://www.vevivos.com/post-comment-love" title="Post Comment Love"><img src=" http://i1322.photobucket.com/albums/u568/ToriWel/4e4a1bf6-07cb-494b-b06e-f959b1fe1311_zps654d027a.jpg" alt="Post Comment Love" style="border:none;" /></a></div>