Welcome to the last Post Comment Love of 2013 – and what a year it's been! I want to say thank you to each and every one of you for linking up and supporting #PoCoLo in such large numbers. I have been so encouraged by the sheer diversity – let alone quality – of all the wonderful blogs that come over every week. Thank you also for your amazing twitter support and for also making the newbie showcase feel so welcome.
Next week, whilst there is no PoCoLo, I shall be doing a round up of all the years newbie showcasers so you can pop back and visit them at your leisure over the festive season for some great reading.
This weekend is a lovely is all about me and Ross. Grace is off to visit her father before we go off to Ross' parents for Christmas and on to my family for Boxing Day so this weekend Ross and I are planning a date night, some Christmas present wrapping and some 'us' time.
Yesterday I dropped off some of the gifts to the Yeovil Women's Refuge which included books, puzzles, games, clothes and toys and a post will follow on this later to include one women's story of what she has been through as well as the little boy aged two who has to sleep with splints on his legs – Kiddicare have very kindly sent him a walker.
On Christmas Eve I have some VERY exciting news for you. A venture between me and another blogger has come to fruition and we will be launching this new project on 24th December. If you would like to know what it is all about then please do come back here to find out – or why not subscribe to my blog via email? 😉
Because #PoCoLo is so busy now – thank you so much to all of you for making it such a success – I will be commenting on all posts (even if it takes me to the following PoCoLo and beyond!) BUT I will only be tweeting your post if you either are displaying the PoCoLo badge or linking back to my blog. This is by way of a thank you from me to you for supporting the linky.
If you are a regular here then it would be great if you spread the #PoCoLo word. However, if you are new here then welcome! Post Comment Love is all about sharing posts which you have written this week which just haven't got the attention they deserve and, with them all in one place, we can help each other share the comment love. This is one of the easiest links EVER. You don't have a 'special theme' to have to write about, the post can be personal, sponsored, a photo, a review, a competition, your own linky, something you've linked to a linky….WHATEVER you like – it's one you've already written this week! If you want some publicity and attention, then you are in the right place!
The only rules are that you comment on at least two of the other posts in the link (maybe the one above and one below yours?!) and then spread the #PoCoLo about this link up on Twitter. The post you link up has to have been written in the last week. The link will go up every Friday at 6.30am and close on Sunday evening at 8pm.
Remember, the more people who link up, the more attention your post is likely to get so please spread the Post Comment Love word and #PoCoLo. Also, don't forget to display the PoCoLo Badge (code below), again the more people who see it, the more attention your lonely post will get.
I have a list for the Newbie Showcase running into August 2014! If you would like to be featured then please email me at vickywelton@hotmail.com so I can put you on the rota. Remember, your blog needs to be under a year old to feature.
This week's newbie showcase is the fabulous Emily from Tealady Mumbles. I have always enjoyed her writing and she has been a longstanding supporter of Prose for Thought. Please make her feel welcome.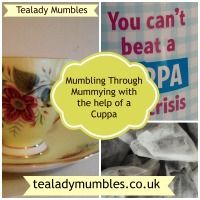 My name is Emily and I blog at
tealadymumbles.co.uk
. I don't even know where the name for the blog came from, I like tea, and I thought I'd be mumbling away to myself on my blog, so there it is! I have been blogging since the end of January so almost a year. I have learnt such a lot in this time.
I live in the South West England with my partner Dan and our daughter Nancy. I am a learning disability nurse for my day job, and I enjoy TV, films, books, cups of warm tea and learning to crochet badly. I am also a recent convert to the wonder of the slow cooker.
My blog is about my experiences, my memories, my advice to others all about being a first time mum to Nancy, born in February, and about my pregnancy too. I like to be honest and open, and write how I feel. I also write poetry and this is nearly all related to parenting. It can sound a little depressing at times, but by writing the poetry, it really helps me to get those feelings out of my system. I enjoy linking up to #prose4T although I have been so busy of late I haven't been able to join in! If you haven't ever tried to write poetry, I heartily recommend it.
I never thought people would actually read the stuff I put on my blog. It has been so rewarding to receive comments on my blog, especially when I see I have helped others through writing about my experiences, such as when I had an ectopic pregnancy, and my breastfeeding difficulties. I just want people to know how it affected me, in case it can help them in the future.
So, my blog has grown over the last 11 months. I have met some wonderful people through blogging, and have been fortunate to attend Britmums and Blogfest this year. I have learnt so much, I am planning to make some changes to make my blog to make it even better next year. Everyone is so helpful and friendly, it really has been such a positive and life changing experience becoming a blogger.
Twitter: @EmilyTealady
Thank you so much to Emily and to all the other newbie showcases this year as well as to you the readers and linkers. I wish you all a truly wonderful Christmas and a Happy and Peaceful New Year. Don't forget to come back next Friday for a round-up of this years newbie showcases and see you back for some more #PoCoLo on 3rd January 2014.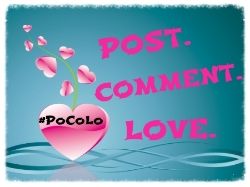 <div align="center"><a href="https://www.vevivos.com/post-comment-love" title="Post Comment Love"><img src=" http://i1322.photobucket.com/albums/u568/ToriWel/4e4a1bf6-07cb-494b-b06e-f959b1fe1311_zps654d027a.jpg" alt="Post Comment Love" style="border:none;" /></a></div>