Welcome to this weeks Prose for Thought and thank you to all the wonderful people who linked up with their original poetry and prose last week. Just to let you know that next week Prose for Thought will be taking a Christmas break but I will be back on 2nd January with a poem especially for Grace for her birthday. I shall also be doing the poetry and prose round-up over on BritMums on 1st January. In the meantime I would like to wish all Prose for Thoughters a very Merry Christmas and thank you for all your amazing support in 2013. Here's to a fantastic 2014!
As our thoughts now turn to Christmas week, there is someone who is so important to me. Someone who has changed my opinion of men and helped me see that there are some wonderful people in the world. I was approached recently and offered an Amazon voucher to purchase a gift for someone special. This was such a relief for me as I wanted to purchase something wonderful for Ross and just didn't have the money. Thanks to a discount, this voucher and a special offer code, I have managed to get just what I wanted for Ross for Christmas and a post will follow, however, it still didn't quite seem enough so Ross – this one is for you babe. Thank you. For everything.
For Ross
Had no partner, had no home
Faced up to being on our own
No male role model there for Grace
Fed up with dating and the chase
Then you came and changed my mind
Just when I wasn't looking to find
Someone caring, thoughtful true
Cause darling Ross, yes that was you
You changed my life and helped me see
That not all men were there to hurt me
You are faithful and earned my trust
I know this is love and not just lust
For Grace you are the perfect Dad
You are the best she could have had
You show her the right from wrong
Play games with her and sing her songs
I know sometimes I can be a pain
You may feel what you do is in vain
I don't think I could ever make you see
Just how much you mean to me
In the nick of time you found me
To set an example and set me free
Christmas now is drawing near
No longer is it a time I fear
So Ross I just want you to know
That though it might not always show
I am so grateful for all that you do
I have so much respect and love for you
© Victoria F J Welton 18th December 2013
If you have your own poem or piece of prose to share then grab my badge code and click the link below to enter your post. If you share a link back to my page in your post then you will be guaranteed some free publicity from me on Twitter! Don't forget to use #Prose4T when tweeting your post. Check out the Prose for Thought page for full details.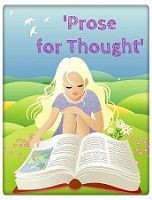 <div align="center"><a href="https://www.vevivos.com/prose-for-thought" title="Prose for Thought"><img src=" http://i1322.photobucket.com/albums/u568/ToriWel/Proseimagesmall_zps637beb08.jpg " alt="Prose for Thought" style="border:none;" /></a></div>