Welcome to this weeks Prose for Thought and thank you to all of those who linked last week – I was so pleased to be able to get round to you all in a far more timely fashion!
This week has been about giving to other people for Christmas. As I spent last weekend at London Zoo with my family visiting Father Christmas, my mind got to thinking about those not as lucky as me. The main reason for this is because one of the PR companies I deal with came to me last week with an offer from M&S…to treat a local charity to something for Christmas. I knew straight away that I would support the children of the women in my local Refuge, part of Womens Aid, who helped me over 6 years ago. I have gifts on the way and a post will follow but for now, here is my take in poetry form.
Grateful
As I spend Christmas with my family
Thoughts turn to those not as lucky as me
Those who are missing someone who's not there
There are times in life when things are not fair
People who are lost and some with no home
Remember the ones who are so very alone
The ones who are too ill to know Christmas is here
The people who continue to live a life full of fear
Be glad when kids wake you at some silly time
Think of these people when on turkey you dine
As you sit with your relations, gifts round the tree
When you smile and play games and giggle with glee
Sometimes it hard to see what's in front of your eyes
Ingesting the season of cheer and of highs
This Christmas remember, hold the ones you love tight
Be grateful it's not you in their place tonight
©Victoria Welton 11th December 2013
If you have your own poem or piece of prose to share then grab my badge code and click the link below to enter your post. If you share a link back to my page in your post then you will be guaranteed some free publicity from me on Twitter! Don't forget to use #Prose4T when tweeting your post. Check out the Prose for Thought page for full details.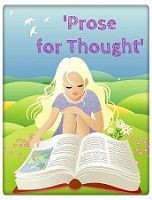 <div align="center"><a href="https://www.vevivos.com/prose-for-thought" title="Prose for Thought"><img src=" http://i1322.photobucket.com/albums/u568/ToriWel/Proseimagesmall_zps637beb08.jpg " alt="Prose for Thought" style="border:none;" /></a></div>