So, here we are. A full week into December and back round to Post Comment Love again! Welcome regulars. And, to anyone who is new here, you will be made to feel very welcome in our friendly community of linkers. If you are looking for blog post variety then you have come to the right place. Whilst I remember, there will be no PoCoLo on the weekend of 27th December – I shall be spending the time with my wonderful family.
This last week hasn't been easy for me. Around 4 weeks ago I reached around in the car to help Grace with something. I strained my left shoulder and it has been getting worse. So much so that on Tuesday this week I paid a visit to the doctor who told me that I have damaged the ligaments and tendons and now need to take anti-inflamatorys as well as have physio. I went to my first appointment yesterday and nearly passed out it hurt so much! (and if you know me, that is not my style! Normally I can take pain!).
My shoulder isn't stopping me from another busy weekend! This morning is Grace's school Carol service at the Church where she is playing the sheep – a part she is also proud of having in the nativity in a couple of weeks – and is making the most of cracking sheep jokes 'come baaaa-ck shepherds' 'they've gone to see the special baaaa-by' – you get the picture! Ross is off to two singing gigs and we are meeting up with him on Sunday when, with some of my family, we pay a visit to London Zoo to see Father Christmas and meet his reindeers 🙂
This week, my posts have included a fabulous Guest What from Mama and More about working mums, a competition from Jelly Jamm, our trip to the Moshi Monster Movie Preview, a discount code to use in creating a special Father Christmas video from the Portable North Pole, and my first two posts in my Good Gift Guide including Paramount Box Sets and Wentworth jigsaw puzzles. I am also crossing my fingers BIG time as we would love to become a Mark Warner Blogging Family and I wrote a post about Holiday Memories as our entry.
Because #PoCoLo is so busy now – thank you so much to all of you for making it such a success – I will be commenting on all posts (even if it takes me to the following PoCoLo and beyond!) BUT I will only be tweeting your post if you either are displaying the PoCoLo badge or linking back to my blog. This is by way of a thank you from me to you for supporting the linky.
If you are a regular here then it would be great if you spread the #PoCoLo word. However, if you are new here then welcome! Post Comment Love is all about sharing posts which you have written this week which just haven't got the attention they deserve and, with them all in one place, we can help each other share the comment love. This is one of the easiest links EVER. You don't have a 'special theme' to have to write about, the post can be personal, sponsored, a photo, a review, a competition, your own linky, something you've linked to a linky….WHATEVER you like – it's one you've already written this week! If you want some publicity and attention, then you are in the right place!
The only rules are that you comment on at least two of the other posts in the link (maybe the one above and one below yours?!) and then spread the #PoCoLo about this link up on Twitter. The post you link up has to have been written in the last week. The link will go up every Friday at 6.30am and close on Sunday evening at 8pm.
Remember, the more people who link up, the more attention your post is likely to get so please spread the Post Comment Love word and #PoCoLo. Also, don't forget to display the PoCoLo Badge (code below), again the more people who see it, the more attention your lonely post will get.
I have a list for the Newbie Showcase running into July 2014! If you would like to be featured then please email me at vickywelton@hotmail.com so I can put you on the rota. Remember, your blog needs to be under a year old to feature.
This week's newbie showcase is the turn of the wonderful Mummy Tries. I have been a regular reader of her blog and she is an avid supporter of my linkies. She has been through some very trying times and is someone who has turned her life around for the better. It is fantastic to see how well she is doing.
Hello, and a huge thank you to thelovelyvicwelton (yes that is her full name) for having me here. I remember emailing back in the summer asking if I could be added to the schedule and being given this slot, I thought 'wow that's months away' but here we are. Time just disappears when you're raising kids does it?! I really enjoy linkys (especially PoCoLo) and have connected with so many other blogs because of it.
I've been writing Mummy Tries since April, and can also be found on Twitter @MummyTries, and have recently set up a GooglePlus account, although I'm still trying to figure out how it works. I blog mainly about my gorgeous hubby and our two little princesses. We also have a wee man joining us in February, and are super excited about meeting him. My blog has a fun side where I talk about my family and what we get up to. It also has a serious side, where I write about my dysfunctional upbringing and its effect on my life. Writing has become my form of counselling, and has been very cathartic for me. Eventually I'd like to write a book, to help others who are going through what I've been through in the past. Another thing to add to the to-do list whilst on mat leave!
I hope you enjoy reading mine, and all the other awesome blogs showcased here today. Have a great weekend and wonderful Christmas everyone xx
Thank you so much lovely lady – I really appreciate the new title 😉 x Please go across and read her inspiring posts as well as those of the beautiful people below. Have a great weekend all x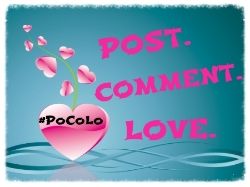 <div align="center"><a href="https://www.vevivos.com/post-comment-love" title="Post Comment Love"><img src=" http://i1322.photobucket.com/albums/u568/ToriWel/4e4a1bf6-07cb-494b-b06e-f959b1fe1311_zps654d027a.jpg" alt="Post Comment Love" style="border:none;" /></a></div>