Welcome to this week's Prose for Thought. Today I shall be getting round everyone who linked up last week and tweeting your post out – apologies that I haven't done it sooner but I am rather suffering from an injured shoulder which seems to have put me rather behind! I am also really disappointed not to have made the Open Mic night yet again last night with Stephanie from Beautiful Misbehaviour. I do hope you had a great evening girls – and I will make it one day!!
On that note, the theme from last night was 'Frosty' which I have taken a slightly different slant on. I wanted to show that atmospheres and relationships can leave you feeling cold just as much as the weather can sometimes! Although my poem, of course, is the extreme, more Arctic type of relationship!
Mr Frosty
How a knife could cut the air
As he gave her the stone cold stare
Icy, frosty, unwavering stare
She wanted to be any place but there
He started on her to pick a fight
He pushed and shoved with all his might
He'd turned sunny day to frigid night
Her future didn't seem so bright
His fingers felt like shards of ice
His words cut through, they weren't so nice
If only she had thought it through twice
Before she picked up that bitter knife
In self defence it was all she had
She wasn't the one who was all bad
He was the one who drove her mad
And pierced her life with glacial sad
He had bruised and chilled her soul
To injure her, it was his goal
No longer did she feel whole
To make her stay he did cajole
No longer with him did she feel bold
Didn't want with him to grow old
Not him to touch or feel or hold
All he did was leave her cold
But with the weapon she was free
She thought 'no longer hurting me'
This is not who I am or want to be
Living a life with Mr Frosty.
©Victoria Welton 4th December 2013
If you have your own poem or piece of prose to share then grab my badge code and click the link below to enter your post. If you share a link back to my page in your post then you will be guaranteed some free publicity from me on Twitter! Don't forget to use #Prose4T when tweeting your post. Check out the Prose for Thought page for full details.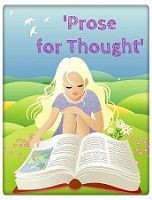 <div align="center"><a href="https://www.vevivos.com/prose-for-thought" title="Prose for Thought"><img src=" http://i1322.photobucket.com/albums/u568/ToriWel/Proseimagesmall_zps637beb08.jpg " alt="Prose for Thought" style="border:none;" /></a></div>