Happy Friday everybody! Welcome to this weeks Post Comment Love and Newbie Showcase. I think, as I have now officially written December in the title of this blog, we can have a little bit of Christmas decoration going on on the old PoCoLo badge, don't you?
I am SO excited about Christmas!! Our Elf on the Shelf is on order, I am pleased to say I've done most of my Christmas shopping and we are all booked up to see Father Christmas at London Zoo a week on Sunday. I won a years membership from ZSL back at Mums Show Live in May and haven't had the chance to use it yet – this seemed like the perfect excuse! Plus, Grace and I are on a road trip to London on Sunday to see the new Moshi Monster Movie. Personally, I don't get Moshi Monsters. Grace will probably think I am stupid for saying that! We are hoping to make a little trip out of it so, after seeing the film we are off to Regents Street to look at all the Christmas windows and hopefully see some lights 🙂
This week I blogged about my John Lewis Secret Santa gift, Christmas in Bath, my trip to bake with Brioche Pasquier, my love hate relationship with fridge freezers (yes, really!), there's some great Gumigem Prizes up for grabs in last week's Weekend Winner and you still have the chance until tomorrow morning to win a Moshi Monster Charm watch, there's a great offer from Wrappz too. As well as all of that there was a great Guest What from Suzanne at 3 Children and It about the positives of having tweens and teens in your life and yesterday's Prose for Thought was a poem from Izzy Dix's teacher – a follow on from last week's Anti-Bullying week.
Because #PoCoLo is so busy now – thank you so much to all of you for making it such a success – I will be commenting on all posts (even if it takes me to the following PoCoLo and beyond!) BUT I will only be tweeting your post if you either are displaying the PoCoLo badge or linking back to my blog. This is by way of a thank you from me to you for supporting the linky.
If you are a regular here then it would be great if you spread the #PoCoLo word. However, if you are new here then welcome! Post Comment Love is all about sharing posts which you have written this week which just haven't got the attention they deserve and, with them all in one place, we can help each other share the comment love. This is one of the easiest links EVER. You don't have a 'special theme' to have to write about, the post can be personal, sponsored, a photo, a review, a competition, your own linky, something you've linked to a linky….WHATEVER you like – it's one you've already written this week! If you want some publicity and attention, then you are in the right place!
The only rules are that you comment on at least two of the other posts in the link (maybe the one above and one below yours?!) and then spread the #PoCoLo about this link up on Twitter. The post you link up has to have been written in the last week. The link will go up every Friday at 6.30am and close on Sunday evening at 8pm.
Remember, the more people who link up, the more attention your post is likely to get so please spread the Post Comment Love word and #PoCoLo. Also, don't forget to display the PoCoLo Badge (code below), again the more people who see it, the more attention your lonely post will get.
I have a list for the Newbie Showcase running into July 2014! If you would like to be featured then please email me at vickywelton@hotmail.com so I can put you on the rota. Remember, your blog needs to be under a year old to feature.
This week's newbie showcase is the wonderful woman I know as Dragonsflypoppy! She is a fabulously talented writer and a good friend. I keep saying that she should write a book…I look forward to reading that one day too. I'm a bit embarrassed to publish the first bit but she wrote it.

Hello and huge thanks to Vicky for letting me be her newbie for this week. Vicky has been a great support to me and to many other bloggers I'm sure. Vicky – you are a superstar and we do all appreciate it!
I'm Elizabeth….but shhh! don't tell anyone as I try (mostly unsuccessfully as you can see) to blog anonymously over at
White Feathers & so much more…
I am a wife and a mummy to a handsome, bright 8 year old boy, and a rather beautiful 5 year old hippy-chick daughter.
I work for a charity and write a lot of bids, tenders and reports, and so writing had become something associated with work, stress and deadlines. In the new year I made a resolution that I wanted to reclaim writing for myself, and that's how
White Feathers
began. My blog is a mix of writing about
family life,
sharing a passion (though not expertise) in
gardening
, and my hobby of
photography
(brought about by filling my time from the empty nest feeling after my daughter started school in September).
White Feathers has evolved in recent months to also include writing creatively, and I have been penning
short stories
and
poetry
. I even won a writing competition a few weeks ago with
this
.
The best part of blogging for me, though, has been the sense of belonging to a genuinely supportive and friendly community. I have 'met' so many interesting people, and made some truly wonderful friends. Thank you to everyone I have had the privilege of chatting to/tweeting/commenting with – you're fabulous!
Have a lovely weekend! xx
You can follow me on twitter @dragonsflypoppy
Thank you so much Dra…I mean Elizabeth (but shhhh, she doesn't want you to know!), if you are not familiar with her fabulous writing then go there…now! And then come back and visit some of the other lovely bloggers below. Have a great weekend! x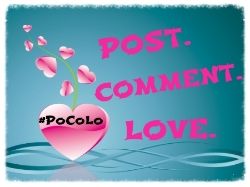 <div align="center"><a href="https://www.vevivos.com/post-comment-love" title="Post Comment Love"><img src=" http://i1322.photobucket.com/albums/u568/ToriWel/4e4a1bf6-07cb-494b-b06e-f959b1fe1311_zps654d027a.jpg" alt="Post Comment Love" style="border:none;" /></a></div>