Welcome to this week's Prose for Thought. I was so touched by how many of you were affected by Izzy's story last week. As a result, lots of you went off and wrote your own tribute or post in support of Anti-Bullying week. I know that Maddie went to tell Gabbi, Izzy's Mum, about the support that was being received and she was absolutely thrilled. We need to make sure that Izzy's death wasn't in vain. Thank you too to the people who signed the petition – there is another opportunity, for those of you who missed it, below.
Maddie mentioned in last week's post how Izzy's teacher read out the poem that she had written entitled 'I Give Up' at her funeral. In response, her teacher read out his poem afterwards. I'll let Maddie explain:
'I wanted to email you a poem that I'd forgotten about – it's called 'Firework' and is a poem written after her death by Izzy's favourite English teacher called Jerry Byford (the one who she handed 'I Give Up' in to, and who then wrote her a different poem in return to try to boost her spirits). Jerry read 'I Give Up' at Izzy's funeral, and then also read out 'Firework' as a response to that. There was not a dry eye in the house. I'd forgotten that I had this poem, but just wanted to let you know, in case you'd ever like me to do a follow up for Prose for Thought on bullying or teen suicide or even just teen self esteem issues. It's a lovely poem. I can see why he's such an inspiring English teacher!'
I couldn't agree more. I read the poem when Maddie sent it and it had me in tears and again last night when I was drafting the post. I had to share it here with you all.
FIREWORK
Don't go yet! Stay a while longer.
Come back
little star.
Don't go into the night
Don't explode in the sky.
All these journeys and plans that you could share
Dismiss the dreams… of night
The daylight sky cannot reveal you if you live in the dark
And yes, fireworks are so beautiful but they last such a brief time
Your blaze and glory should match the sun not wait for it to set.
So come into the light
Don't go into the night
Don't explode in the sky.
Don't encourage Wind's crying lonesome breeze,
Don't make Tall Oaks stare at darker winter skies
Instead
let us remember
That better time and place
In summer
Before you disappeared into time and space
Let us remember
The firework
so sparkling
that lasted such a brief time.
©Jerry Byford September 2013
Please support the Love For Izzy Dix anti-bullying campaign by:
Signing the petition (link to: http://www.change.org/en-GB/petitions/shut-down-cyberbullying-website-ask-fm-in-memory-of-izzy-dix-12-other-teens-globallyfollow)
Liking them on Facebook (link to: https://www.facebook.com/IzzyDixAntiBullyingMemorialPagefollow)
Following them on Twitter (link to: https://twitter.com/IzzyDixMemorialfollow)
If you have your own poem or piece of prose to share then grab my badge code and click the link below to enter your post. If you share a link back to my page in your post then you will be guaranteed some free publicity from me on Twitter! Don't forget to use #Prose4T when tweeting your post. Check out the Prose for Thought page for full details.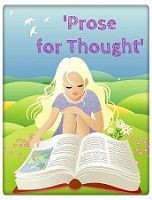 <div align="center"><a href="https://www.vevivos.com/prose-for-thought" title="Prose for Thought"><img src=" http://i1322.photobucket.com/albums/u568/ToriWel/Proseimagesmall_zps637beb08.jpg " alt="Prose for Thought" style="border:none;" /></a></div>