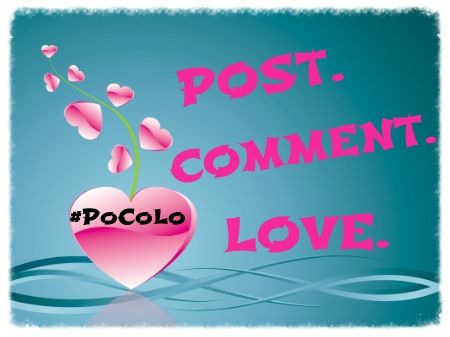 Welcome everyone to this weeks Post Comment Love. Firstly I must apologise and say that I didn't quite get round to everyone this week. Time caught up with me a bit and – like the good Doctor – I think I need to get me a TARDIS to help take me back in time and give me extra hours in the day! I will try and go back and make up for the ones I didn't visit by still commenting on your posts! I sometimes think that running two linkys in two days is making a bit of a rod for your own back – take my advice and don't do that, OK?! Although don't get me wrong – I love both of my linkys and wouldn't be without them.
Talking of the TARDIS, one of the things I am very excited about this weekend is going to see 'The Day of the Doctor', the 50th Anniversary edition of Dr Who. Excuse me if you one of my Facebook friends – I may well harp on about an incy wincy bit! Apologies now. II am a true Dr Who fan. I recall many Saturday evenings sat hiding behind my blanket watching the 4th Doctor, the great Tom Baker, the first one I could remember properly (I did see Jon Pertwee but only towards the end of his reign). Then on Sunday, Ross and I will be sorting the spare room and turning the garage into the gym (deja-vu here, I think I said that a few weeks ago but it never happened!).
This last week has been all about getting my life in order, some sort of routine. Plus, I have started to put together my new idea for a Children's series of books. I had the small idea when Grace was just a baby but it seems to have expanded and branched a bit and has now formulated into something much better! I am quite pleased about how that is coming together.
This week is Anti-Bullying week and, if you haven't seen yesterday's Prose for Thought, then please pop across and show your support and sign the petition. I know it had a number of people in tears. As well as yesterdays guest, Stephanie Arsoska was on Guest What? on Tuesday talking about her Christmas traditions – it really is a beautiful post and you can find it here.
Because #PoCoLo is so busy now – thank you so much to all of you for making it such a success – I will be commenting on all posts (even if it takes me to the following PoCoLo and beyond!) BUT I will only be tweeting your post if you either are displaying the PoCoLo badge or linking back to my blog. This is by way of a thank you from me to you for supporting the linky.
If you are a regular here then it would be great if you spread the #PoCoLo word. However, if you are new here then welcome! Post Comment Love is all about sharing posts which you have written this week which just haven't got the attention they deserve and, with them all in one place, we can help each other share the comment love. This is one of the easiest links EVER. You don't have a 'special theme' to have to write about, the post can be personal, sponsored, a photo, a review, a competition, your own linky, something you've linked to a linky….WHATEVER you like – it's one you've already written this week! If you want some publicity and attention, then you are in the right place!
The only rules are that you comment on at least two of the other posts in the link (maybe the one above and one below yours?!) and then spread the #PoCoLo about this link up on Twitter. The post you link up has to have been written in the last week. The link will go up every Friday at 6.30am and close on Sunday evening at 8pm.
Remember, the more people who link up, the more attention your post is likely to get so please spread the Post Comment Love word and #PoCoLo. Also, don't forget to display the PoCoLo Badge (code below), again the more people who see it, the more attention your lonely post will get.
I have a list for the Newbie Showcase running into July 2014! If you would like to be featured then please email me at vickywelton@hotmail.com so I can put you on the rota. Remember, your blog needs to be under a year old to feature.
This week's newbie showcase is the lovely Claire from What Elsa Wears. I am ashamed to say that I don't know as much about her blog as I should but I intend to make amends on that this week. What I do know though is that she has some gorgeous photos of Elsa 🙂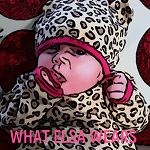 Hello everyone and a big hello and thank you to Vicky for letting me waffle on her lovely blog today.
We are a Mummy & Daughter blogging team of Mummy Claire & 14 month old Elsa. Mummy mainly does the blogging, Elsa provides the inspiration and cute photos! We live in Leeds with Husband//Daddy and I have just returned to work part time as an accountant as well as running my online tutu/frilly knicker/tights business at www.itsy-bits.co.uk. At the moment I am trying to find the balance between all of that and being able to write the blog posts I want to. It is not easy!
I started blogging back in February this year. What Elsa Wears (www.whatelsawears.com) initially started out on Twitter, I realised that Elsa had so many lovely clothes and was also changing so fast that I wanted to make sure I took a photo of her every day. Tweeting her outfit every day made sure I took those photos. The blog came after people started showing an interest and I thought it would be lovely to have an online diary about Elsa. A modern day memory book if you will.
We write about baby fashion but we also write about anything else that pops into this rambling Mummy's head. I love that through the blogging I have met so many lovely people who have become online friends, even though I probably wouldn't recognise them if I fell over them in the street. It is an amazing community to be part of. And I hope you all enjoy reading about What Elsa Wears.
Twitter @WhatElsaWears
Facebook: https://www.facebook.com/WhatElsaWears
So please go and show the lovely Claire some #PoCoLo and don't forget some of the other great people below.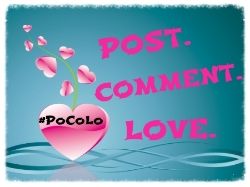 <div align="center"><a href="https://www.vevivos.com/post-comment-love" title="Post Comment Love"><img src=" http://i1322.photobucket.com/albums/u568/ToriWel/4e4a1bf6-07cb-494b-b06e-f959b1fe1311_zps654d027a.jpg" alt="Post Comment Love" style="border:none;" /></a></div>