Welcome one and all to this week's Prose for the Thought, the linky for all your original creativity for poetry and prose. Thank you so much to all the linkers from last week – I am STILL getting round to you all! I will get there, I promise.
This week I have really noticed just how big Grace is getting and how much she is growing up. She is starting to talk about 'annoying boys' and say such grown up things that all of I sudden, I've blinked and the baby has disappeared! In it's place is this young lady whose features are starting to change from that of a little girl to a young girl instead. This is what has inspired my poem this week.
When Did You Get So Big
I watch you as you grow and flourish
And sometimes you have too much courage
Taking risks that are out of my power
I guess I'm losing control by the hour
Tell me, when did you get so big?
Time passes by in the blink of an eye
I look at you and I smile and sigh
The grown up chat is starting to come
But I still want to be your number one
Tell me, when did you get so big
It's bath time when I notice it most
When I hold your head and look at you close
Your face is changing and growing so
But I just don't want to let you go
Tell me, when did you get so big?
Holding fast onto all of those years
I still want to be the one to quash the fears
Big brave girl when you're feeling bolder
There'll still be cuddles from me when you're older
Tell me, when did you get so big
So, please someone slow the hands of time
I want this girl to always be mine
To always need me to be there and guide
And always be there to walk by her side
Tell me, when did you get so big
© Victoria F J Welton 13th November 2013
If you have your own poem or piece of prose to share then grab my badge code and click the link below to enter your post. If you share a link back to my page in your post then you will be guaranteed some free publicity from me on Twitter! Don't forget to use #Prose4T when tweeting your post. Check out the Prose for Thought page for full details.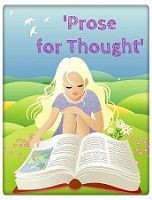 <div align="center"><a href="https://www.vevivos.com/prose-for-thought" title="Prose for Thought"><img src=" http://i1322.photobucket.com/albums/u568/ToriWel/Proseimagesmall_zps637beb08.jpg " alt="Prose for Thought" style="border:none;" /></a></div>