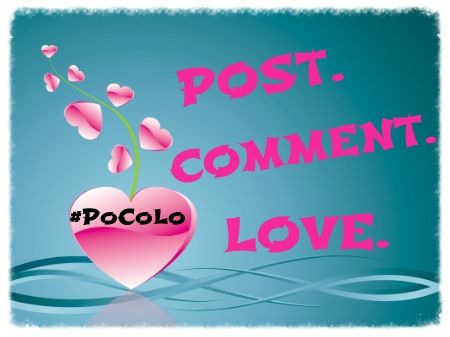 Welcome to this weeks Post Comment Love – the linky that showcases the wonderful diversity of blogging. As each week passes I grow more and more fond of reading posts and seeing the different methods of presentation and the variety of subjects that people blog about. That is one of the many things I love about blogging.
This week has seen me write about the Charlie and the Chocolate FactoryMusical, two different poems on my blog – both for competitions here and here as well have Grace write a poem, offer up a fabulous food hamper to be won, have a wonderful Guest What post about firework safety, show how you can eat more for less thanks to Sainsburys, offer advice to breastfeeding Mums and review an iPad cushion! I was also on the Andrew Castle show on LBC last weekend talking about Christmas spending and I wrote about it afterwards. All in a weeks blogging I guess.
This weekend I am looking forward to spending some time with Ross. Grace hasn't stayed a way from us for a while and I am really going to miss her but it gives me and Ross a chance to focus on the two of us. I am going to watch him sing with his band tomorrow evening and I am SO excited about it. I have to admit to being slightly disappointed that I am not going to Blogfest tomorrow but I really can't afford it! Then, next week, Grace is going for a trial horse riding lesson to see if she likes it. It is what she has asked for as her Christmas/Birthday present and that is not going on her list until we know she likes it.
Because #PoCoLo is so busy now – thank you so much to all of you for making it such a success – I will be commenting on all posts (even if it takes me to the following PoCoLo!) BUT I will only be tweeting your post if you either are displaying the PoCoLo badge or linking back to my blog. This is by way of a thank you from me to you for supporting the linky.
If you are a regular here then it would be great if you spread the #PoCoLo word. However, if you are new here then welcome! Post Comment Love is all about sharing posts which you have written this week which just haven't got the attention they deserve and, with them all in one place, we can help each other share the comment love. This is one of the easiest links EVER. You don't have a 'special theme' to have to write about, the post can be personal, sponsored, a photo, a review, a competition, your own linky, something you've linked to a linky….WHATEVER you like – it's one you've already written this week! If you want some publicity and attention, then you are in the right place!
The only rules are that you comment on at least two of the other posts in the link (maybe the one above and one below yours?!) and then spread the #PoCoLo about this link up on Twitter. The post you link up has to have been written in the last week. The link will go up every Friday at 6.30am and close on Sunday evening at 8pm.
Remember, the more people who link up, the more attention your post is likely to get so please spread the Post Comment Love word and #PoCoLo. Also, don't forget to display the PoCoLo Badge (code below), again the more people who see it, the more attention your lonely post will get.
I have a list for the Newbie Showcase running into July 2014! If you would like to be featured then please email me at vickywelton@hotmail.com so I can put you on the rota. Remember, your blog needs to be under a year old to feature.
This week =the newbie showcase belongs to Jocelyn at The Reading Residence. I remember at first always thinking of her as 'the card lady' but I have to say that she really does write a great blog.
Hi All, and thanks very much to Vicky for having me here.
I'm Jocelyn, I'm in my mid-thirties, and I have two children, Boo (4) and Little Man (1), a husband and a hound. We all have fun together in our home just north of Birmingham. I left my career in finance when Boo arrived to be a SAHM to her, and I now run my own business at www.jocelyscards.co.uk, as well as blogging, writing, and continuing to look after my gorgeous Little Readings. My days are filled with playing with two lively children, who adore each other (so far..!), and I slot my work into the nooks and crannies of this wherever I can. I enjoy being an organised person, I love making my plans, to-do lists and such-like, which helps keep me on track with balancing family life with my business and blogs. Well, on track as much as you can be!
I started blogging over at
The Reading Residence
early in July this year, after first writing my business blog, and getting a taste for it all. I was also chatting to lots of lovely people on Twitter, enjoying reading their blogs, so I thought, why not join in?!
My surname is 'Reading', though I'm also passionate about reading and getting our children into books, so I thought the blog name was a good fit. As well as books, I blog about what we get up to together as a family, our days out, money-saving ideas and money matters, I share things that I love, we're redesigning our garden, so Project Garden is a regular feature and anything else I fancy rambling on about. I love having this little space where I can talk about what we get up to, and hopefully help others with ideas and inspiration, too.
You'll find me tweeting as @IHaveCards, and I'm over on
Facebook
and Pinterest, too.
Enjoy this weekend whatever you are doing and don't forget to spread a little #PoCoLo!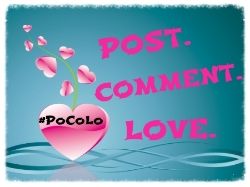 <div align="center"><a href="https://www.vevivos.com/post-comment-love" title="Post Comment Love"><img src=" http://i1322.photobucket.com/albums/u568/ToriWel/4e4a1bf6-07cb-494b-b06e-f959b1fe1311_zps654d027a.jpg" alt="Post Comment Love" style="border:none;" /></a></div>