I am so pleased that so many people are turning their hand to create own poetry and/prose and then linking it up here at Prose for Thought – it really is inspiring to so much creativity out there in the world. You can see much more of this on my BritMums poetry and prose round up this month. As a result of all this inspiration, I have written 3 poems this week – two of which I have already published on my blog. One is for the November Center Parcs Family Challenge and the other is for the Mums Network Autumn carnival. of course you can go across and read the words in the posts but I have also decided to record them for Prose for Thought this week and you can find an MP3 for each of them below. The other person who got creative this week is Grace. Living in a house with parents who are both writing regularly – me on a blog and lots of poems and Ross who is a published writer as well as a writer of press releases – Grace couldn't really fail to be inspired! I regularly read my poems to her so it was wonderful for her to come out of school on Tuesday this week and see her excitement when she told me she had written something. I was so proud. Below I share the drawing as well as her acrostic or name poem.
FIREWORKS
Flaming fireworks
It's exciting
Rumbling in the ground
Eee-mazing colourful fireworks
Worried because of the sound
Orange fireworks
Roaring sound
Krazy
Shiny
©Grace F K Welton 5th November 2013
If you have your own poem or piece of prose to share then grab my badge code and click the link below to enter your post. If you share a link back to my page in your post then you will be guaranteed some free publicity from me on Twitter! Don't forget to use #Prose4T when tweeting your post. Check out the Prose for Thought page for full details.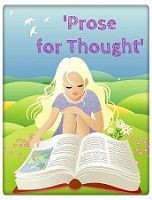 <div align="center"><a href="https://www.vevivos.com/prose-for-thought" title="Prose for Thought"><img src=" http://i1322.photobucket.com/albums/u568/ToriWel/Proseimagesmall_zps637beb08.jpg " alt="Prose for Thought" style="border:none;" /></a></div>