Welcome everyone to Prose for Thought – the linky for all your original poetry and prose. Thank you to everyone who linked up last week, it was one of the most successful weeks to date.
Today, as the world and it's wife knows, it is Halloween which sort of fills me with a mixture of excitement and dread. I remember the days when I had no children and lived on a large development in Woking. We would sit with the lights off and pretend no one was in when the trick or treaters came a-knocking! Of course, now I have Grace I look at Halloween very slightly differently as I don't want to spoil her fun BUT I also take other feelings into account on this day. So, like last year, I shall be popping round to all the neighbours in our Close and giving them some sweets to give to Grace when she comes knocking on their door. We shall be doing our own Halloween crafts and making a spooky buffet for tea, drinking blood (tomato juice) and eating fingers in slime (carrot sticks in guacamole).
This week's Prose for Thought is inspired by the mixed feelings I have about trick or treating and being respectful to the people who aren't interested!
Trick or Treat
Is trick or treat a good idea
Or does it fill you full of fear
Is it all some harmless fun
Or make your child an expectant one
All dressed up for Halloween
Like something from a horror scene
Knocking on the persons door
Maybe an idea to check before
What if that person is all alone
It may set them an awful tone
Make them scared give them a fright
Best leave them alone tonight
An elderly person may live there
So do you think it's really fair
To go to them with expectation
Don't protest with indignation
So if you are happy with trick or treat
And are ready to dish out sweets
Display your pumpkin for all to see
And if they don't kids, leave them be!
© Victoria F J Welton 30th October 2o13
If you have your own poem or piece of prose to share then grab my badge code and click the link below to enter your post. If you share a link back to my page in your post then you will be guaranteed some free publicity from me on Twitter! Don't forget to use #Prose4T when tweeting your post. Check out the Prose for Thought page for full details.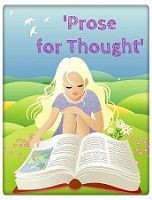 <div align="center"><a href="https://www.vevivos.com/prose-for-thought" title="Prose for Thought"><img src=" http://i1322.photobucket.com/albums/u568/ToriWel/Proseimagesmall_zps637beb08.jpg " alt="Prose for Thought" style="border:none;" /></a></div>