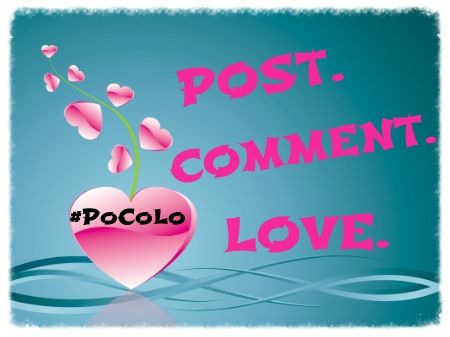 I cannot believe that it is next weekend the clocks go back, it's nearly Halloween and then Bonfire Night! Before we know it Post Comment Love will be a year old! In that time, I have lost count how many wonderful blog posts I've read and how many fantastic bloggers have linked up. I also have a list of newbie showcase bloggers into June of next year. Today sees the 28th blogger to be showcased.
This weekend is all about the house and garden for us. Appropriately I have just joined the HIBS 100 as well as the Foodie 100 as I find myself getting more domesticated since we have moved. We will be starting with the garden tomorrow. We have agreed that Grace and I will be doing the weeding whilst Ross cleans all the outside windows…well, the ground floor ones at least! Then Sunday is all about making our guest room look a bit more inviting as well as turning it into our new computer/games room. I also need to construct a new desk for my room which Ross kindly bought me (thank you darling). The table I did have was incredibly uncomfortable to sit at!
As well as the new Guest What? feature on my blog – which has a list of bloggers into January thanks to lovely people volunteering – I am also starting a Weekend Win feature every Saturday which is where I will be running a regular giveaway slot giving at least one lucky person the chance to win a great prize.
If you are a regular here then it would be great if you spread the #PoCoLo word. However, if you are new here then welcome! Post Comment Love is all about sharing posts which you have written this week which just haven't got the attention they deserve and, with them all in one place, we can help each other share the comment love. This is one of the easiest links EVER. You don't have a 'special theme' to have to write about, the post can be personal, sponsored, a photo, a review, a competition, your own linky, something you've linked to a linky….WHATEVER you like – it's one you've already written this week! If you want some publicity and attention, then you are in the right place!
The only rules are that you comment on at least two of the other posts in the link (maybe the one above and one below yours?!) and then spread the #PoCoLo about this link up on Twitter. The post you link up has to have been written in the last week. The link will go up every Friday at 6.30am and close on Sunday evening at 8pm.
Remember, the more people who link up, the more attention your post is likely to get so please spread the Post Comment Love word and #PoCoLo. Leave your Twitter handle and link entry number below if you would like a shout-out on Twitter (I'll probably tweet you anyway but if I don't get round to it then I'll make sure I tweet the ones in the comments). Also, don't forget to display the PoCoLo Badge (code below), again the more people who see it, the more attention your lonely post will get.
I have a list for the Newbie Showcase running into June 2014! If you would like to be featured then please email me at vickywelton@hotmail.com so I can put you on the rota. Remember, your blog needs to be under a year old to feature.
This week's newbie showcase is Emma from Life As It Is. She and I were lucky enough to meet up during the summer when she was on holiday in Lyme Regis, which is now only half an hour up the road from us. We spent some time together on the beach and Grace got on so well with her girls. We had a lovely time.
Dear fellow bloggers.
I'm Emma from LIFE AS IT IS aka the GraceFaith blog. A full time Surrey mum of two little ones, who luckily likes typing…
You see, I'm used to writing; I meet deadlines for a living, (while my two year old naps in the day usually, at 5am before she wakes seldomly)…
…And then about a year ago, the blog realisation dawned. And with it, that opportunity to write whatever I wanted to write. Oh and God, how that is something else altogether. More than writing, it's therapy. A lovely, fuzzy, (and often pissed, hic!) therapy. Look you can read what LIFE AS IT IS is all about if you happen to visit, but here's the gist:
TALES and ANECDOTES. REAL LIFE. AS IT IS.
Be it told via PARENTING, LIFESTYLE OR MEMOIR.
In other words, let me put it like this… A quilting wraps around the blog, representing life. Never ending, ever changing, sometimes with the odd hole or rip, sometimes clashing, but on the whole, safe and warm. Within that quilt are stories. Tales old and new, funny and sad. And the odd rant and tip too.
The tagline SAVING GRACE, KEEPING FAITH & MUDDLING THROUGH IN THE MEANTIME refers to my two girls, Esme GRACE and Sofia FAITH. One who was saved after being very sick at birth, and the other who we had to fight to keep. Esme's story begins with the DOWN TO EARTH WITH A BUMP posts. A funny, sad, warm and honest story that led me to suffer from PND as I wrote it down.
You see, my blog is my place of catharsis. My little outlet of all things dream. My remembrance spot for all things gone by. My creative outlet. A place to smile. A place to cry. A place for my girls when they are grown up.
A place I love. Oh and how I hope you will too.
And while I'm on that subject, I have a measly 12 members. Could you please be so kind to join me? Think of it as a blog birthday present and I'll love you forever!
Oh and one last thing: I probably should mention that after a Summer of fun, I've not totally been updating LIFE AS IT IS as I would usually. Work, kids, and a broken phone got the better of my SMT (Social Media Tendencies). But this is the point that all changes – starting next week, when I share little Sofia Faith's choking incident, a story where for one awful moment, hubby Simon and I, thought we had lost her. (Did I mention there was drama?!).
Anyway, that's it.

Do enjoy a lovely weekend.
PPS I write for a few different PARENTING TITLES – Real life features are my bread and butter. So if you have a story you would like told, don't hesitate to get in touch. You'll get some gorgeous photos out of it! x
Thanks Emma 🙂 Let's all go and spread the Post Comment Love! 🙂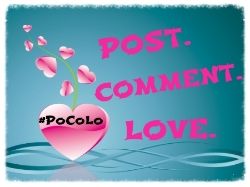 <div align="center"><a href="https://www.vevivos.com/post-comment-love" title="Post Comment Love"><img src=" http://i1322.photobucket.com/albums/u568/ToriWel/4e4a1bf6-07cb-494b-b06e-f959b1fe1311_zps654d027a.jpg" alt="Post Comment Love" style="border:none;" /></a></div>