Welcome everyone to this week's Prose for Thought. Thank you to everyone who linked up for last week for what was very emotional for me and, I'm sure, many others.
This weeks poem comes from something I just don't get enough of…sleep! I'm always saying 'I'm going to bed early tonight' but 'tonight' never seems to come! So I thought that maybe, by writing a poem about it, I might actually turn it into a self-fulfilling prophecy. Well, I live in hope anyway!
Valued Sleep
It's crying out inside my head
It's seeping through my eyes
I put on a falsetto smile
Can you see through my disguise
I'm feeling the frustration
I try not to let it go
I'm trying not to explode
Like a top about to blow
I try so hard, every night
And say that I will do it
But the clock keeps creeping round
With every single tick
I seem to get distracted
By Facebook or a tweet
When suddenly I remember
I really should get some sleep
So, will I ever get an early night
And get myself to bed
I guess I need to get off my bum
Oh look…there's something I've not read….
© Victoria Welton 2nd October 2013
If you have your own poem or piece of prose to share then grab my badge code and click the link below to enter your post. If you share a link back to my page in your post then you will be guaranteed some free publicity from me on Twitter! Don't forget to use #Prose4T when tweeting your post. Check out the Prose for Thought page for full details.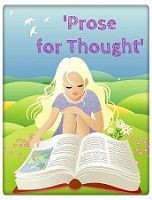 <div align="center"><a href="https://www.vevivos.com/prose-for-thought" title="Prose for Thought"><img src=" http://i1322.photobucket.com/albums/u568/ToriWel/Proseimagesmall_zps637beb08.jpg " alt="Prose for Thought" style="border:none;" /></a></div>