Welcome to this week's Prose for Thought, a little corner of creativity on my blog. Thank to everyone who continues to contribute and support this link.
From the 9th to 15th October it is Baby Loss Awareness Week here in the UK. It is a week where parents can commemorate their babies' lives which were so very brief but had such a massive impact on them. On October 15th it is Pregnancy and Infant Loss Remembrance day across the world and, I will be taking part in the global 'Wave of Light' at 7pm, lighting a candle and leaving it to burn for at least an hour to remember all the babies who have died during pregnancy, at, during or after birth. The global light is significant in the fact that it is for the babies who lit up our lives for such a short time on this earth.
British and US studies have shown that the psychological impact of losing a baby can last for years and, with one in five pregnancies resulting in miscarriage, it really does make you wonder how many people this must affect across the world.
As well as the 'Wave of Light', I am also dedicating this week's Prose for Thought to the Baby Loss Awareness Week and have written a poem which I hope helps anyone dealing with their feelings on baby loss and gives some comfort. I can't find a title for this poem so, for now, it remains unnamed.
How do I cope with feelings like this
Am I really allowed to miss
The one I didn't know at all
The one I will never hold so small
They say that you're too beautiful
To stay with us and see life through
With the angels you've gone to sing
Already you have earned your wings
I'll feel you with me come what may
Get through these feelings night and day
Now, at night, the stars shine brighter
And I hold my loved ones that bit tighter
© Victoria Welton 4th October 2013
If you have your own poem or piece of prose to share then grab my badge code and click the link below to enter your post. If you share a link back to my page in your post then you will be guaranteed some free publicity from me on Twitter! Don't forget to use #Prose4T when tweeting your post. Check out the Prose for Thought page for full details.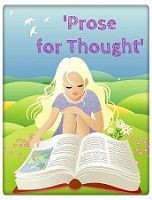 <div align="center"><a href="https://www.vevivos.com/prose-for-thought" title="Prose for Thought"><img src=" http://i1322.photobucket.com/albums/u568/ToriWel/Proseimagesmall_zps637beb08.jpg " alt="Prose for Thought" style="border:none;" /></a></div>