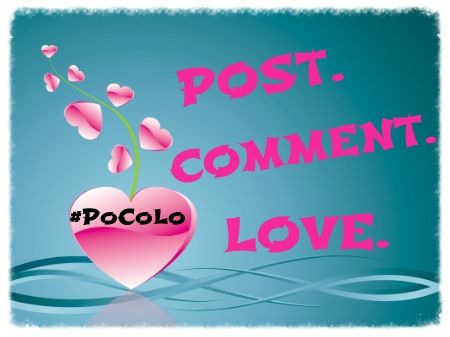 Welcome everyone to this weeks Post Comment Love and a massive thank you to all 91 linkers last weekend. Amazing!
Last weekend I paid a visit to my brother, his wife and their beautiful new daughter. Other than that I've been at home spending time with my family and plan to do the same this weekend. There is nothing more special that the people who mean the most to me. Nothing more, nothing less.
This week I am really pleased to introduce a new feature on my blog called 'Guest What?' Every Tuesday I will have a guest writer on my blog, so look out for the first one this Tuesday.
If you are a regular here then it would be great if you spread the #PoCoLo word. However, if you are new here then welcome! Post Comment Love is all about sharing posts which you have written this week which just haven't got the attention they deserve and, with them all in one place, we can help each other share the comment love. This is one of the easiest links EVER. You don't have a 'special theme' to have to write about, the post can be personal, sponsored, a photo, a review, a competition, your own linky, something you've linked to a linky….WHATEVER you like – it's one you've already written this week! If you want some publicity and attention, then you are in the right place!
The only rules are that you comment on at least two of the other posts in the link (maybe the one above and one below yours?!) and then spread the #PoCoLo about this link up on Twitter. The post you link up has to have been written in the last week. The link will go up every Friday at 6.30am and close on Sunday evening at 8pm.
Remember, the more people who link up, the more attention your post is likely to get so please spread the Post Comment Love word and #PoCoLo. Leave your Twitter handle and link entry number below if you would like a shout-out on Twitter (I'll probably tweet you anyway but if I don't get round to it then I'll make sure I tweet the ones in the comments). Also, don't forget to display the PoCoLo Badge (code below), again the more people who see it, the more attention your lonely post will get.
I have a list for the Newbie Showcase running into April 2014! If you would like to be featured then please email me at vickywelton@hotmail.com so I can put you on the rota. Remember, your blog needs to be under a year old to feature.
This week's newbie showcase is the lovely MishMash who I am really pleased to see back on the blogging scene after a short break after losing her Grandfather. She wrote a really beautiful post about him. Over to you lovely lady:
Hello everybody, my nickname is MishMash and hence I blog over at
A MishMash Life!
Also, as the name implies my blog is a miscellany of things – my life as a mad mummy of twins (double the trouble, but twice the fun!), my charity work and raising awareness as an Ambassador for The Brain Tumour Charity and anything and everything else that takes my fancy.
I started blogging almost a year ago (has it really been that long?) just because I needed to 'talk' to somebody else apart from my twins – even if it was to a virtual audience! My first post was about the time when I actually found out that I was going to have twins. It was at my 3 month scan, and yes it was a shock as until then we just thought we were having the one!
So please do come over and say hello. It would be great to have some feedback and make some more blogtastic friends as I navigate my way through the labyrinth of the blogging world wide web!
My twitter handle is @mishmashmamma
So go over and give our newbie showcase, and the other lovely linkers below, lots of lovely #PoCoLo!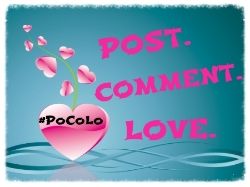 <div align="center"><a href="https://www.vevivos.com/post-comment-love" title="Post Comment Love"><img src=" http://i1322.photobucket.com/albums/u568/ToriWel/4e4a1bf6-07cb-494b-b06e-f959b1fe1311_zps654d027a.jpg" alt="Post Comment Love" style="border:none;" /></a></div>