Welcome to this week's Prose for Thought and, fittingly, it is National Poetry Day. Together with Helen's wonderful BritMums round-up yesterday and Stephanie's Open Mic night on broadcast as a Google + Hangout last week, we seem to be surrounded by such talented writers and more and more bloggers are self-publishing their work and not being afraid to showcase their creativity. It's really wonderful to see.
Unfortunately I missed Stephanie's Open Mic night and was really looking forward to reading out some of my poems – so I am really looking forward to the next one which is on Wednesday 30th October. Join us at 9pm for a spooky theme 🙂
This week I have been wondering what Grace will be and what she is going to do with her life. Of course I want her to be successful but, what I want for her most is to be happy. I've captured my thoughts in the poem below.
What Will You Be?
What will you be my little one?
Open your eyes, step into the sun
The world is yours, it's at your feet
In front of you so many people to meet
You can shine brightly as a star
Or glow in the warmth of who you are
Be at the top of your profession
Or enjoy being part of the procession
Your self-belief is what you need
To do what you can to succeed
Us, your parents, we will help you
Be who you are, to do what you do
But whatever happens, one things certain
Do all you can to be a decent person
© Victoria Welton 2nd October 2013
If you have your own poem or piece of prose to share then grab my badge code and click the link below to enter your post. If you share a link back to my page in your post then you will be guaranteed some free publicity from me on Twitter! Don't forget to use #Prose4T when tweeting your post. Check out the Prose for Thought page for full details.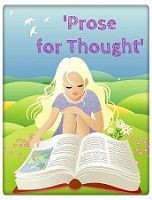 <div align="center"><a href="https://www.vevivos.com/prose-for-thought" title="Prose for Thought"><img src=" http://i1322.photobucket.com/albums/u568/ToriWel/Proseimagesmall_zps637beb08.jpg " alt="Prose for Thought" style="border:none;" /></a></div>