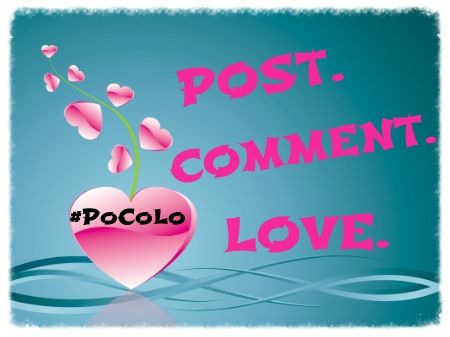 From one majorly busy week (i.e. last week) to one very quiet and cold-filled one this week, welcome to this week's Post Comment Love.
I have to say that the MAD Blog Awards last Friday was utterly amazing and I still consider myself very lucky to have been there. To take a look at a list of all the winners, pop over and read the poem I wrote especially. I can't believe it is now a week ago. I will still be writing my post about my experiences of the night so watch this space!
This week has seen me full of cold and very poorly. It is pretty much unheard of for me to be in bed by 9pm but I have been on no less than 3 occasions this week! Of course, it could be partly to do with the cleansing programme I am doing which is going ever so well.
This weekend sees Ross singing his heart out at one, possibly two, functions and on Saturday Grace and I are off back to Surrey to meet my new niece – her cousin – who was born this week on 23rd September. My brother, Olly, and his wife, Vicki, gave birth to a beautiful little girl by the name of Lily Victoria – great name that! 😉 – who was born at 9.39pm weighing 7lb 5oz.
If you are a regular here then it would be great if you spread the #PoCoLo word. However, if you are new here then welcome! Post Comment Love is all about sharing posts which you have written this week which just haven't got the attention they deserve and, with them all in one place, we can help each other share the comment love. This is one of the easiest links EVER. You don't have a 'special theme' to have to write about, the post can be personal, sponsored, a photo, a review, a competition, your own linky, something you've linked to a linky….WHATEVER you like – it's one you've already written this week! If you want some publicity and attention, then you are in the right place!
The only rules are that you comment on at least two of the other posts in the link (maybe the one above and one below yours?!) and then spread the #PoCoLo about this link up on Twitter. The post you link up has to have been written in the last week. The link will go up every Friday at 6.30am and close on Sunday evening at 8pm.
Remember, the more people who link up, the more attention your post is likely to get so please spread the Post Comment Love word and #PoCoLo. Leave your Twitter handle and link entry number below if you would like a shout-out on Twitter (I'll probably tweet you anyway but if I don't get round to it then I'll make sure I tweet the ones in the comments). Also, don't forget to display the PoCoLo Badge (code below), again the more people who see it, the more attention your lonely post will get.
I have a list for the Newbie Showcase running into March 2014! If you would like to be featured then please email me at vickywelton@hotmail.com so I can put you on the rota. Remember, your blog needs to be under a year old to feature.
This week's newbie showcase is a blog that I'm ashamed to admit that I don't ready nearly enough but I intend to make amends to that this weekend. Welcome Kirsty…
Hello I'm Kirsty and I write about the funny side of family life as Eeh Bah Mum.
I started my blog when I moved out of London back home to Yorkshire with my partner, my daughter and our baby son. Basically I had no friends so I decided to start a blog about all the amazing crafts and brilliant cakes I had baked for my beautiful home.
Unfortunately I was living at my parents at the time, I'm crap at crafts and my fella begged me never to bake anything ever again.
So instead of writing about my wonderful life I started writing about my actual life which is kind of wonderful but also involves quite a bit of swearing and lots of shop bought cakes.
My first ever post was about running and how I was using it to avoid looking after my children. I don't think anyone read it, but that wasn't really the point, I enjoyed writing it.
You can follow me on twitter @eehbahmum and like me (please like me!) on Facebook.
I'm also on Pinterest and Google+ but I have no idea how they work.
Refreshing to see such honesty about Pinterest and Google there! Go across and give Kirsty some support, and while you're at it don't forget all the lovely linkers below!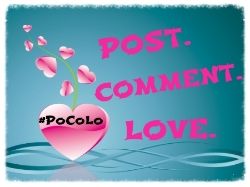 <div align="center"><a href="https://www.vevivos.com/post-comment-love" title="Post Comment Love"><img src=" http://i1322.photobucket.com/albums/u568/ToriWel/4e4a1bf6-07cb-494b-b06e-f959b1fe1311_zps654d027a.jpg" alt="Post Comment Love" style="border:none;" /></a></div>
Copyright protected by Digiprove © 2016 Victoria Welton