Two more loves in my life 🙂
Little did I know when I first became a blogger a year ago just what a 'monster' I would be creating. Of course, I mean that in the nicest possible way.  I consider my blog one of my best friends – if that makes sense?! It is my comfort, my own little space where I create content and invite others to as well 🙂
I know to some I may have been banging on about my blog's anniversary just a little too much (?!) but this space has changed my life…completely…for the better in so many ways.
I now have a far better idea of what I want to do with my life and the direction I want to take. When I started this site, I didn't realise how far I would come in such a very short time. So many people comment on the fact that they can't believe my blog is so young. I just don't know where the time has gone!
There have been a year of firsts in my great blogging journey and I am going to list some of my biggest below:
My First Blog Post.
It's funny because when I wrote this I actually didn't know whether to class myself as a blogger or a writer. I now know that I consider myself both of these things. I shared an awful lot about myself – including the fact that I had sworn never to start a blog! Boy am I glad I have!! I also go on to give people a lot of information about me and who I was. This year has seen a lot of changes. My first comment was from my friend, Lisa. Second was blogger – This is Me – Sarah Mum of 3
My First Review
Back when I started I wanted to share pretty much everything and anything I did. My first review was the Beverley Craven concert that Ross and I went to at South Hill Park in Bracknell.
My First Link up to a Linky
I distinctly remember the first time I linked to a linky. Grace had said something memorably funny that day and I wanted to record it. I then saw that Actually Mummy did a weekly link up for posts about funee things your children say and do. This still remains one of my favourite link ups – although I haven't given it as much love as I should of late!
My First Blogger Best Friend
Jaime from The Olivers Madhouse and I met via BritMums Newbie Group. We both never shut up, both seem to have similar ideas and, most importantly, have been a massive source of support and inspiration for each other. I've helped give her ideas for linkys, she's helped by going into my blog dashboard when my internet was down (that's major trust for you!) and we were roomies at BritMums Live this year. This was also the first time we met – it felt like we had known each other forever!
My First Blogging Advertisment
This came thanks to Annie and Steph who run Love All Blogs.  For 3 months from December to February I sponsored the Love All Blogs site and, in return they supported my site and pimped out my posts! Thanks girls 🙂
My First Blogger Meet-Up
The first bloggers I met in real life (or IRL in social media talk!) were Suzanne from 3 Children and It and Louise from A Strong Coffee. We all discovered that we lived within a 3 mile radius of each other in Wokingham, Berkshire and arranged to meet in the pub for a drink. We chatted all evening….competing with the bloke reading out the Pub Quiz questions!
My First Blogging Award Nomination
I am well aware that there are many people not as lucky as me to get through to the finals of a Blogging Award. I have managed to do it twice this year! I still can't quite understand how I did! Way back on the last day of February this year I received a tweet from Suzanne at 3 Children and It that evening saying 'congratulations you!!! Brilliant news on your @MadBlogAwards finalist place 
 '  It still amazes me every time I think about it. The awards take place this Friday and I fully intend to enjoy every single second – I doubt it will happen again! If you want to read more about my excitement of being nominated then you can read my gabbling post here!
My First Blogging Event
My first proper blogging event was BritMums. It was an amazing time. I met so many people and did so many things that my head was swimming! On the Sunday, after it was all over, I wrote my final post for the Shoulder to Shoulder To Day Campaign on the Sunday. I remember sitting at breakfast crying as I wrote it! I think it shows here just how much the blogging community means to me.
My First Blogging Campaign
As mentioned in the last paragraph, Phil from Firefly Phil came up with the idea to do something to support Emma from Crazy With Twins through her radiotherapy earlier this year.  So I formed the 'Shoulder to Shoulder to Day' Campaign where we had bloggers host each day during the course of Emma's treatment. Thankfully, Emma was able to hold her children far sooner than anticipated. The amount of cheer that linked up across those days was inspiring and so many people did things to help her. Emma even made the local, national and international news.
My First Silent Sunday
Here is the first photo I linked to Silent Sunday. I didn't really get what this was at first! Now I know and join in most weeks. I am not brilliant at commenting others – sorry! I will try my best to improve.
My First Linky
Whilst Post Comment Love and Newbie Showcase is the biggest linky I run, I have a very soft spot for Prose for Thought which I started way back in January this year.  It has inspired me in so many ways, not least to continue with my poetry writing. One of my biggest supporters is Helen from All At Sea and together we became co-editors of the Poetry and Prose round-up for BritMums back in September. Prose for Thought has also given me my most page views in one day. I recently wrote a poem for Lucy, the daughter of a friend of mine who tragically lost her life in August. Poetry helps keep me sane and express my feelings.
My First Vlog
I recorded my first vlog in January and, Penny from A Residence who edits the video round-up, thought my idea for doing my weekly news on what was coming up on the blog a rather innovative one so I was featured in the BritMums newsletter as a result. I believe that it is because of this that I became a finalist in the Video Category at the BiB Awards this year.
My First Visit to the Houses of Parliament
Last week, on 9th September to be precise, I was invited along with a handful of other bloggers to attend the Houses of Parliament. we were invited via Liz Scarff by Lord Saatchi to hear about a new bill that he was trying to get through Parliament – the Saatchi Bill. He believes that the law needs to be changed to help Doctors with their medical innovation to protect them and bring about new cures and I wholeheartedly agree with him. There will be more exciting developments in the coming weeks about this but, to find out more, you can read two of the posts I have written here and here.
My First Time in the Tots 100
My final first is something that I achieved this month.  I have been a fairly regular climber in the Tots 100 Index since I joined (bar one month!) and I finally made the top 100 this month to number 96. A fitting end to my first year.
Your Chart History
| Date | Score | Rank | Change |
| --- | --- | --- | --- |
| September 2013 | 3671 | 96 |  10 |
| August 2013 | 3768 | 106 |  8 |
| July 2013 | 3634 | 114 |  28 |
| June 2013 | 3350 | 142 |  58 |
| May 2013 | 3070 | 200 |  34 |
| April 2013 | 3103 | 166 |  105 |
| March 2013 | 1543 | 271 |  65 |
| February 2013 | 1342 | 336 |  542 |
| January 2013 | 542 | 878 |  97 |
| December 2012 | 602 | 781 |  326 |
| November 2012 | 185 | 1107 |  0 |
So, what is in store for the next year? At the moment I just don't know yet. There is a couple of things in the pipeline and a few ideas I have.
If you have just started your blogging journey then I wish you the very best – I hope it presents to you the many wonderful opportunities that have come my way so far.
As I've already said, my blog has changed my life BUT it would be nothing without the wonderful support and encouragement from everyone out there who reads my posts, takes the time to comment and the people who join my linky's.
A massive heartfelt thank you to each and every one of you.
P.S. If you would like to know more about me and why I started blogging then pop over to Stephanie's blog Beautiful Misbehaviour.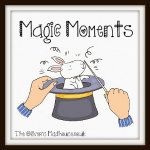 Copyright protected by Digiprove © 2016 Victoria Welton