Welcome to another week of Prose for Thought. Thank you for all of your amazing support. If you haven't seen it yet, then pop across and read my poetry and prose round-up for BritMums last week.
As you may have already read, I was amongst a handful of bloggers who were asked to the Houses of Parliament on Monday this week to talk about the proposals for the Saatchi Bill. Then, yesterday, Michael Ellis MP read the bill out in the House of Commons. I watched it all on live TV. It looks like a very long-winded process to get this through – it is being read again tomorrow. In case you were wondering what it is all about, it is a bill to try and make medical innovation for Doctors easier. You can read both my posts – The Meaning of True Love here and A Cure for All Ills here.
This event also helped me to see yet again just how strong this blogging community of ours is and what a big voice we have. I have tried my best to sum it up in the following poem.
The Saatchi Bill
Make a stand, make a change
Accept none of the resistance
Many voices make a noise
Come on, you can go the distance
Bring us together, we will speak
We will formulate our words
For a subject that affects us all
We will make sure we are heard
Bloggers are a mighty force
When you bring us all together
Keep trying, talking, won't give up
And we won't back down, not ever
So much suffering needn't be
If you listen to our will
We can make an historic change
Please accept the Saatchi Bill
©Victoria Welton 11th September 2013
If you have your own poem or piece of prose to share then grab my badge code and click the link below to enter your post. If you share a link back to my page in your post then you will be guaranteed some free publicity from me on Twitter! Don't forget to use #Prose4T when tweeting your post. Check out the Prose for Thought page for full details.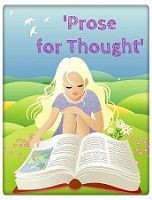 <div align="center"><a href="https://www.vevivos.com/prose-for-thought" title="Prose for Thought"><img src=" http://i1322.photobucket.com/albums/u568/ToriWel/Proseimagesmall_zps637beb08.jpg " alt="Prose for Thought" style="border:none;" /></a></div>