Welcome to this week's Prose for Thought. Thank you for all the amazing support last week. That particular post has quickly become my most viewed ever. I hope that what I wrote brought comfort to many people in the poem I wrote for Lucy and thank you to all the wonderfully creative people who link up with their own poetry and prose.
Today is Lucy's funeral. I've felt so upset all week that I can't attend. At the moment I can't really afford the travel and, with Grace's second day at school I need to make sure I am here for her. I know many of the people who will be going and my best wishes and prayers go out to all of them today.
I've always believed that funerals are important as they are your way of saying goodbye so, I've decided to say goodbye to Lucy in my own way – the way I know how to – in a poem. I have also recorded it and a copy of it is below.
Forever Young
I'm sorry I can't be there to say
My own goodbyes to you
Please know that you're in my thoughts today
In all I say and do
I've sent to the charity that's been chosen
A great and worthy one
Did you know that this is the place
That helps my sisters son?
Those children who are missing out
On you and what you'd teach
May they grow and may they thrive
With all the potential they can reach
So walk now with the stars
And in the beams of the setting sun
We will remember you and
You will stay forever young
©Victoria Welton 4th September 2013
If you have your own poem or piece of prose to share then grab my badge code and click the link below to enter your post. If you share a link back to my page in your post then you will be guaranteed some free publicity from me on Twitter! Don't forget to use #Prose4T when tweeting your post. Check out the Prose for Thought page for full details.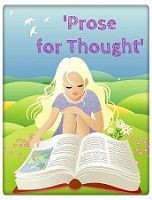 <div align="center"><a href="https://www.vevivos.com/prose-for-thought" title="Prose for Thought"><img src=" http://i1322.photobucket.com/albums/u568/ToriWel/Proseimagesmall_zps637beb08.jpg " alt="Prose for Thought" style="border:none;" /></a></div>