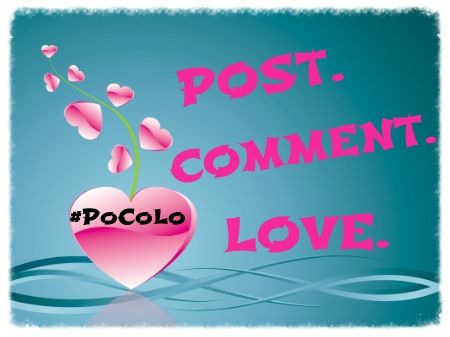 Welcome to this weeks Post Comment Love Newbie Showcase :). Firstly I am REALLY excited to announce that September sees the first anniversary of my blog, or as we bloggers call it, my 'bloggerversary….it's on the 15th September to be precise. This means I am bringing you two very exciting weeks of giveaways to say thank you to all of my lovely readers! I am going to make them all easy to find and give them their very own dedicated page so look out for this starting on Sunday.
It's been rather an eventful week in the WWW household. We had Ross' birthday last weekend and he made the most of it by not working! Bless him, he works so hard. We had a lovely day watching films and eating food. The following day we had his family over for lunch and then Bank Holiday was time for the three of us to go for a walk and explore our area at long last. We discovered the most beautiful fields minutes from our house with a little river running through. It was lovely.
Wednesday this week the three of us went off to Coast View Holiday Park in Shaldon, Devon. I was there to assess it for the Approved Family Friendly Accreditation and will bring you a write-up soon. It was absolutely beautiful there and I had the best ice cream cone topped with clotted cream and a flake from a lovely little shop in Ness Bay. Then yesterday I was in London taking part in a photo shoot for the new Harley Street Clinic – it gave me a chance to understand how the chemotherapy patients must feel and was my first modelling assignment in quite a while!
If you are a regular here then it would be great if you spread the #PoCoLo word. However, if you are new here then welcome! Post Comment Love is all about sharing posts which you have written this week which just haven't got the attention they deserve and, with them all in one place, we can help each other share the comment love. This is one of the easiest links EVER. You don't have a 'special theme' to have to write about, the post can be personal, sponsored, a photo, a review, a competition, your own linky, something you've linked to a linky….WHATEVER you like – it's one you've already written this week! If you want some publicity and attention, then you are in the right place!
The only rules are that you comment on at least two of the other posts in the link (maybe the one above and one below yours?!) and then spread the #PoCoLo about this link up on Twitter. The post you link up has to have been written in the last week. The link will go up every Friday at 6.30am and close on Sunday evening at 8pm.
Remember, the more people who link up, the more attention your post is likely to get so please spread the Post Comment Love word and #PoCoLo. Leave your Twitter handle and link entry number below if you would like a shout-out on Twitter (I'll probably tweet you anyway but if I don't get round to it then I'll make sure I tweet the ones in the comments). Also, don't forget to display the PoCoLo Badge (code below), again the more people who see it, the more attention your lonely post will get.
I have a list for the Newbie Showcase running into February 2014! If you would like to be featured then please email me at vickywelton@hotmail.com so I can put you on the rota. Remember, your blog needs to be under a year old to feature.
This week's Newbie Showcase come from Lou at Lou's Lake Views. I love reading her blog from the perspective of an expat over in Canada. It is one of the places in the world I would choose to live if I ever got relocated.
Hi I'm Lou and I blog over at Lou's Lake Views.
Firstly thank you to the lovely Victoria for sharing her little bit of cyberspace with me this week, I am truly grateful.
I emigrated from the Essex coast to the shores of Lake Ontario in Toronto, Canada in July 2011 with my hubbie, and our two sons (aged 18 & 12). We moved in search of a calmer less stressful life and luckily that is exactly what we found. I have transformed my life from ready-meal reheating, shopaholic, business owner to volunteering, baking, yoga loving, stay at home mum. I'm not a natural domestic goddess but I'm giving it my best shot J
I began blogging in November 2012 after a bout of homesickness. My sister-in-law (Mama Syder) suggested that writing down my experiences would help me to feel better and would help me connect with other expats who have similar experiences, she was absolutely right. I now feel connected, not only to other expats, but also to other mums and bloggers regardless of where they are in the world.
I blog about my new experiences, settling into a new life and discovering new places in this beautiful country we have chosen to call home.
Email – Lou@louslakeviews.com
Twitter – @LLoopyLou
Facebook – https://www.facebook.com/lous.views.9
Google+ – https://plus.google.com/u/0/102661305477198560679
So please pop across to Lou's blog with some PoCoLo and, of course, the other lovely linkers below.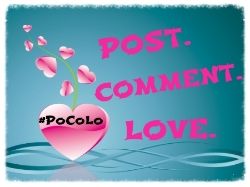 <div align="center"><a href="https://www.vevivos.com/post-comment-love" title="Post Comment Love"><img src=" http://i1322.photobucket.com/albums/u568/ToriWel/4e4a1bf6-07cb-494b-b06e-f959b1fe1311_zps654d027a.jpg" alt="Post Comment Love" style="border:none;" /></a></div>