Welcome to this week's Prose for Thought, the linky for the many poets and writers out there to share their original creativity.
Last weekend saw one of the most amazing weekends of my life. Being at the Rewind Festival and meeting many of my icons from the 80's is something many people can only dream about. With all the issues I am having to deal with from my past at the moment, it was a wonderful respite. Then, on Monday, I visited Woking Crematorium with my Mum and Grace which helped to put everything into perspective.
It would have been my Uncle's 62nd birthday. He was 39 when he passed away unexpectedly. He was rushed to hospital after being taken ill on the cricket pitch and died that evening. Walking around the Crematorium, I was looking at the plaques and thinking about all these people who had gone, just leaving the legacy of their lives behind them. It's doing something like this that suddenly brings me back to reality and makes me think about who I am and where I am going. I don't want to be one of life's complainers, a victim or to have major regrets of things I haven't done and I feel there are many occasions where I feel time is running out.
I see too much complaining on Facebook, particularly in blogger groups at the moment about rather menial things and I find myself thinking 'why can't people just let it go, stop worrying and just enjoy life?'
This is my poem for this week. As with last week, the recording of me reading it is at the end of the poem.
Life
Life
A delicate matter
To be treasured and tended
Not dismantled and destroyed
Life is too short
To complain and criticise
For regret and revenge
For hate and the haters
Life is to be treasured
Every single moment
Savoured and celebrated
Entertained and enjoyed
Dismiss the complainers
Live the entertainers
© Victoria Welton 21st August 2013
I would really love and appreciate your comments below – and please, go and visit and comment on, the poems from the people who link up
If you have your own poem or piece of prose to share then grab my badge code and click the link below to enter your post. If you share a link back to my page in your post then you will be guaranteed some free publicity from me on Twitter! Don't forget to use #Prose4T when tweeting your post. Check out the Prose for Thought page for full details.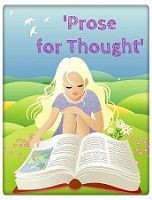 <div align="center"><a href="https://www.vevivos.com/prose-for-thought" title="Prose for Thought"><img src=" http://i1322.photobucket.com/albums/u568/ToriWel/Proseimagesmall_zps637beb08.jpg " alt="Prose for Thought" style="border:none;" /></a></div>