Welcome one and all and thank you to everyone for making Prose for Thought such a special and creative place to be. I continue to enjoy this linky and all the talented people who share their work here for everyone to see.
This week I have been reflecting on me and how I have changed throughout the past 7 years. I am also astounded at just how many butterflies there are in Somerset. They are one of my favourite creatures. I have often taken pleasure in trying to liken my life to one of theirs and this week I wanted to dedicate a poem to that very feeling. In amongst all of the emotions I am feeling at the moment, I wrote one last night. Here it is both in written and spoken form:
Butterfly
Delicate, beautiful, there is no sound
Either high in the sky, or near to the ground
In them beauty can always be found
I wish I were a butterfly
Dance and float around the flowers
Skip through the sun avoiding the showers
I could sit and watch for hours and hours
I wish I were a butterfly
Done things they didn't know they could
Transformed their lives and it feels so good
Flying when they didn't know they could
So maybe I am that butterfly.
©Victoria Welton 14th August 2013
I would really love and appreciate your comments below – and please, go and visit and comment on, the poems from the people who link up 
If you have your own poem or piece of prose to share then grab my badge code and click the link below to enter your post. If you share a link back to my page in your post then you will be guaranteed some free publicity from me on Twitter! Don't forget to use #Prose4T when tweeting your post.  Check out the Prose for Thought page for full details.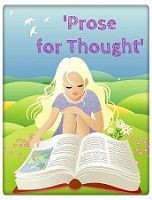 <div align="center"><a href="https://www.vevivos.com/prose-for-thought" title="Prose for Thought"><img src=" http://i1322.photobucket.com/albums/u568/ToriWel/Proseimagesmall_zps637beb08.jpg " alt="Prose for Thought" style="border:none;" /></a></div>